If Greenstreet Needs Elevation, Then All Ghanaians Do—CENAB UK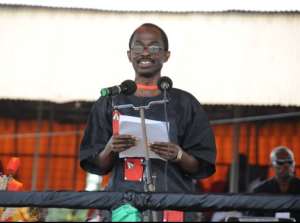 CENAB UK says it fully identifies with the statement made by Mr Ivor Greenstreet, the General Secretary of the Convention Peoples' Party at the NDC Congress in Kumasi over the weekend.
CENAB is a broad coalition of patriots, friends, sympathizers, political admirers and people who believe that Nana Addo Dankwa Akufo-Addo and Dr. Mahamadu Bawumia's leadership will be the best to project Ghana into prosperity through development embedded in freedom.
The group members in UK said they also feel the pain that Mr Greenstreet is suffering from the barrage of abuse the entire NDC, including the President of Ghana, Mr John Mahama, is pouring on him.
CENAB UK finds it embarrassing and disgraceful the way angry delegates of the ruling National Democratic Congress (NDC), charged on the Secretary of the Convention People's Party (CPP) as he was wheeled away from the inner perimeter of the Kumasi Sports stadium.
CENAB UK believes the statement delivered by Mr Greenstreet that "no one is feeling the better Ghana… Ghanaians are not happy at all…," is a statement that majority of Ghanaians can identify with and therefore the insults being meted out to him is therefore an insult on majority of Ghanaians.
Majority of Ghanaians are not feeling this Christmas due to povertyand while in the midst of this the NDC paraded an array of SUVs and displayed opulent spending of GHC5000 per delegate, according to their Ex-Chairman Dr Kwabena Adjei. In a clear evidence of a show of the proceeds of corruption and a President who has time and again showed evidence lack of care and openly danced to the tune of Lumba's "Yentie obiaa," the NDC have shown great disrespect to the responsibility Ghanaians have reposed in them.
It is very clear, from the words of Mr Greenstreet that "Continuous 'dumsor dumsor,' corruption from top to bottom, left right inside out, and all the challenges you are facing [are] suffocating the Ghanaian people."
In a clear act of bullying, a behaviour which the ruling NDC have used time and again, they have decided to use Mr Greenstreet's physical disability as an attack on him. The President did not only insult Mr Greenstreet but all Ghanaians when he described the majority who are suffering as suffering from "selective myopia." Sam George's insulting words which he has retracted but without any remorse, is an affront on not just Mr Greenstreet's integrity but that of all Ghanaians.
CENAB UK is calling on all well-meaning Ghanaians to identify with the plight of and insults against Mr Ivor Greenstreet and stand up to the bullying tactics of the President and his NDC Cohort. His dance to the tune of "Yentie Obiaa" and his description of sufferers from his bad governance as suffering from "selective myopia" must be condemned as irresponsible and lack of good judgment.
Mr Greenstreet, CENAB UK stands shoulder to shoulder with you both with your statement and the pains you are suffering as a result of your boldness. Your name will be boldly written in the history of the brave who stood up to the bully of the NDC and we share your words "NDC continue, we are watching you, Ghana is watching you, do what you want to do, we also know what we'll come and do…make sure you'll elect executives who will be able to steer your party's affairs when you are in opposition. Boys abr3."
Source: CENAB UK
(Email: [email protected])