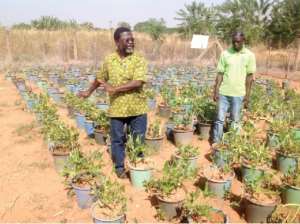 Ghana has successfully developed a genetically modified cowpea (beans), referred to as Bt cowpea. Developed by the Savannah Agricultural Research Institute (SARI) at Nyankpala in the Northern Region, the Bt cowpea will be the first GM crop/food to be introduced in Ghana.
It is resistant to the Maruca pod borer, an insect/pest that destroys the conventional type of cowpea, the 'Songotra ' thereby causing farmers to lose substantial portions of their investment/income.
SARI, which is implementing the Bt cowpea project in the country, is to embark on the multiplication of the seeds of the Bt cowpea in commercial quantities next year for distribution to farmers for planting in the three northern regions.
A former Principal Investigator at SARI and a consultant to the Bt cowpea project, Dr I. D. K. Atopkle, announced this at a day's training on biotech communications and science reporting, organised by SARI for some selected media practitioners in the three northern regions at the SARI station at Nyankpala last Wednesday.
He told the journalists, who also visited the site for the confined Bt cowpea trials at Nyankpala, that the Bt cowpea would not look different from the conventional 'Songotra' that farmers knew already and were planting currently.
GM foods are safer
Dr Atopkle said the Bt cowpea would not pose any danger to humans and the environment.
"GM crops are sprayed at most twice unlike non-GM crops which are sprayed at least six to seven times, during production" he said.
He said Ghana had a biotechnology and safety law as well as a National Biosafety Commission (NBC) to regulate the production of GM crops/food.
The Deputy Director of SARI and Principal Investigator for the cowpea project, Dr Mumuni Abudulai, for his part, debunked the contention that GM crops would kill conventional crops.
Objective of project
The Director of SARI, Dr S K Nutsugah, earlier in a welcome address, said the goal of the project was to contribute to food security and improve the livelihoods of small-holder farmers in West Africa by using biotechnology tools to develop improved, high yielding farmer-preferred cowpea varieties that were resistant to attack by Maruca pod borer.
Mrs Linda Asante-Agyei, a science reporter, who took the journalists through the rudiments of biotechnology and science reporting, urged media practitioners to embrace science reporting since it was rewarding and a sure way to speed up the socio-economic development of the project.
A communication specialist with the Bt cowpea project based in Nigeria, Mr Abu Umaru, said the project was a public-private partnership (PPP) co-ordinated by the African Agricultural Technology Foundation (AATF) to develop transgenic cowpea varieties with resistance to Maruca pod borer.
- See more at: http://graphic.com.gh/news/general-news/35368-ghana-develops-gm-cowpea.html#sthash.vkLpI8Lk.S4J0Oa3J.dpuf
For Life, the Environment, and Social Justice!
Social Media Outreach
Pan-Africanist International - a grammar of Pan-Africanism and its manners of articulation.
Website: http://www.panafricanistinternational.org/
Twitter: https://twitter.com/#!/PanAfricanists
Facebook: http://www.facebook.com/pages/Pan-Africanist-International/