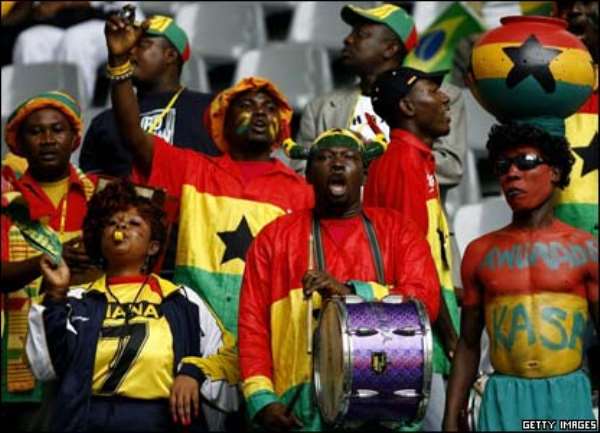 Asamoah Gyan is notoriously notorious for missing crucial penalties for Ghana but that won't be the attraction of the 2014 FIFA World Cup in Brazil. Beautiful women, beaches, Brazilian prostitutes, football crazy fans, Samba styled football, Boko Haram, Sepp Blatter's bald head, Neymar, Messi, Ronaldo, Balotelli, Klose, street protests, opening ceremony, naked women, beautiful goals and poor officiating will obviously make the headlines.
Football, the creme de la creme of all sporting events in Ghana, Africa and the world will once again be at the centre of global media coverage, assembling 32 countries in the football craze Samba country-Brazil where some 64 matches are expected to be played in the Amazon continent to 'sambalistically' decide which country will be crowned as world champions.
The South American country is hosting the tournament for the second time since it last did in 1950 with an estimated 150,000 to 200,000 football spectators storming the famous Maracana stadium for the final match against South American rivals Uruguay in a match that was named MARACANAZO.
It was simply a match fit for the gods. Brazil needed just a draw to clinch the world cup trophy but Uruguay were in with different ideas. The hosts were defeated by Uruguay in their own backyard in a day the whole of Brazil wept. Since then, the FIFA world cup has been hosted by countries from all continents.
Famous world cup tournaments have been that of England 1966, Mexico 1970, Mexico 1986, Italia 90, France 98, Japan-Korea 2002, and the finest South Africa 2010. Maradona's "hand of God" goal against England, Roger Miller dancing in Italia 90, Bebeto's hand celebration in USA 94, Pele at 1970 in Mexico, Zidane's "headmaster" abilities at the 98 finals against Brazil, and his "headbutting" of Marco Mettarazzi in the 2006 finals in Brazil coupled with Luis Suarez's " hand of insult" at the soccer city stadium coupled with Asamoah Gyan's subsequent "penalty of death" are some of the most memorable world cup events.
From Pele to Maradona, Eusebio to Bobby Charlton, Salenko to Muller, Platini to Roger Miller, Zidane to Ronaldo, Cannavaro to Cafu, Forlan to Iniesta, Oliver Kahn to Zico, Bebeto to Asamoah Gyan, Romario to Rivaldo and Ronaldinho, Van Basten to Franco Baresi and Eto to Klose, the world has seen the very best of talented footballers through the world cup.
This year's mundial is expected to further rekindle the rivalry between Brazil and Argentina, Ronaldo and Messi, Spain and Netherlands, England and Argentina, England and Germany, France and Brazil, Italy and France and of course Ghanaians versus Luis Suarez.
Trust me, should any of these two countries meet, the match would be played to the very fierce of rivalry. Imagine another match between Luis Suarez's Uruguay and Gyan's Black Stars.
Spain, Brazil, Argentina, Italy, Germany, Ghana, Netherlands and France are clear favourites to win the world cup. With their possessing football, the Spanish national team are the leading contenders for the world cup. Brazil has a good team but Neymar without any world cup experience is too young to lead the Samba boys like Ronaldo did in 2002.
The Argentines and Lionel Messi with all their superstars always flatter to deceive. Unfortunately, Messi has woefully failed to single handedly carry Argentina on his shoulders like Diego Maradona did in Mexico 86.
Replicating his splendid form at Barcelona for his national team has always been a headache for the four times Balon dor winner. Messi has the opportunity to forever silence his critics by leading Argentina to clinch the trophy or stand the shame to be forever remembered as an un-patriotic star who did less for his country.
The Italians and Germans are much alike in football. They have never been considered serious contenders for any major tournament by soccer pundits. The Azzuris and Germans are always full of surprises. The German machines are always the team to beat in any tournament. The Italians will always have the best of defence and goal keepers. Their solid back four always make them hard nuts to crack.
The French, Dutch and Belgians have a set of talented youngsters and can equally spring surprises in Brazil but the team to watch is THE BLACK STARS OF GHANA. Forget the English national team, they have no talented player in their team. The English press are good at hyperbole. They call Rooney
the "white Pele" yet he hasn't scored a single goal at any world cup game although he played all their four matches in South Africa and their 2006 quarter final cracker with Portugal.
You can argue with me but at the world cup stage, Asamoah Gyan is far better than Lionel Messi, Ronaldo, Rooney, Suarez, Neymar, Fred, Higuain, Aguero, Cavani, Van Persie, Sneidjer, Robben, Eto, Yaya Toure, Torres, Benzema, Balotelli, and Drogba. The 'baby jet' l can assure will once again raise the flag of GHANA and AFRICA high. With Andre Ayew, K.P Boateng, Kwadwo Asamoah, Sulley, Atsu, Afful and Essien, the Black Stars will once again display the "agoro- football" that have earned them the "Brazilians of Africa " title.
Kwadwo Asamoah is the most skilful, talented and true playmaker of our team. I still don't understand why Kwasi Appiah is trying to use him at left back. When played upfront, he can create a lot of chances for us with his skills and defence splitting passes. Asamoah Gyan struggles when played as an arrow head in a 4-2-3-1 formation. He is always comfortable with a supporting striker in old fashioned 4-4-2 formation. It's a shame Majid Waris is injured. Kwasi Appiah should have practiced 3-5-2 formation during our trial matches.
Ghana's midfield is our strength and playing this formation could have given us options in midfield. Kwadwo Asamoah could have featured at the "left wing back' position like he does at Juventus. The choice of tactics is the sole responsibility of Kwasi Appiah. Ghana had 3 penalties in Germany and 3 in South Africa through open play. Asamoah Gyan played 5 and scored 3 with Stephen Appiah netting 1 against USA. Asamoah Gyan the skipper of the team has in honour of his late mother decided not to take penalties during open play. Gyan is notoriously notorious for missing crucial penalties during big stage matches for Ghana.
His penalty miss against Uruguay in the quarter finals in the soccer city stadium in South Africa denied Ghana and Africa a record first time semi final appearance. Similarly, his penalty miss against Zambia in the African cup of nations in 2012 denied Ghana a place in the finals.
He also missed in Germany in Ghana's game against Czech Republic after he had earlier given his country the opener. Yet, l still believe head coach Kwasi Appiah should be able to convince and motivate Asamoah Gyan to take penalties again for the Black Stars during open play.
Ghana's chances of progressing in the tournament will hugely depend on penalties awarded. Trust me, we have no expert penalty taker than Asamoah Gyan. He is our best shot when it comes to penalties.
The Black Stars psychologist Professor Mintah, should psyche Gyan to let go his penalty demons in South Africa and Gabon and truly show his leadership skills as captain of the team by taking penalties again. Why must we count on another fresh penalty taker when we can count on the experience of Gyan ? We simply need Gyan for open play penalties. In a very difficult and dicey group like ours, open play penalties are vital for our progress and we can't afford missing such an opportunity with a fresh penalty taker.
You obviously don't need to be a soothsayer or rocket scientist to know that; Balotelli would be shown the yellow card in Brazil, Neymar will score a goal, Asamoah Gyan will dance should he score, Spain will dominate possession in every match, Klose will equal Ronaldo's world cup most goals record, England will disappoint as usual and blame either the referee, hot weather or ball should they be eliminated. The English press are always good at that.
France will field a black player, a Korean player will either be called Park, Yi or Kim, Cameroonians will have the multi-coloured hairs styles, a Dutch player will be called Van, a Brazilian player will do the "step-over" football skills, Sergio Ramos will get a yellow card, Cristiano Ronaldo will come with a fresh looking hair style, Iran will concede most goals followed by Honduras. Bakary Sagna will be the most "handsome" player due to Taye Taiwo's absence with Arjen Robben being the most selfish player.
A Croatian player will have his name ending with " ich ," Boko Haram will surely detonate a bomb during the tournament, Pele would be at the stadium, prostitutes will reduce their prices or offer a "free show" or "gate free" as the tournament progresses and don't forget ECG will put the lights off during a match.