Buaben Asamoa Is The People's Candidate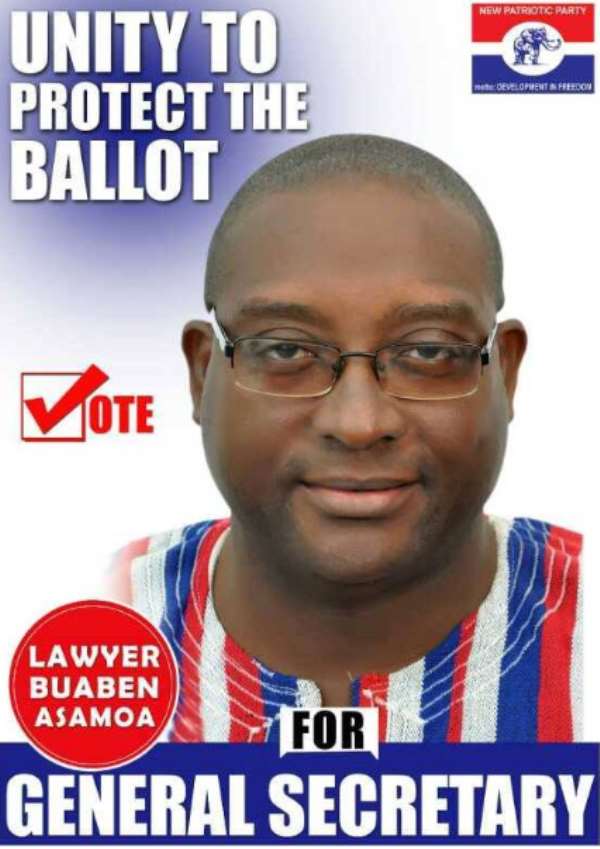 With just a day to the Tamale Congress, I have had to re-evaluate my support for YB following a nagging feeling that my support may not be firmly grounded on facts but some biases, which I may have to break free from. For this reason, I decided to conduct a personal inquiry into why I believe YB will be the man we will need as a General Secretary if electoral victory and onward declaration is our target in 2016.
I chose to concentrate on the questions below, which for me are very crucial for the unity and the victory we yearn for but may be overlooked as some people will want to overly concentrate on some perceptive qualities and so called achievements that can only be found on paper without grounding in reality.
The first question I asked myself is: among the candidates, is YB the most fair, objective and has respect for diversity and most of all human dignity i.e. stands above his self-serving biases and interests at all times in service to his party, its members and more importantly the ordinary Ghanaian who most often looks up to the party for inspiration and leadership?
Secondly, is he the most honest and takes personal responsibilities even if it is uncomfortable i.e. do people really known where they stand when it comes to YB?
Thirdly, among the lot is he the one I can safely entrust with the party's resources and go to bed soundly without suffering insomnia?
Again, is he the one with the best record of emotional stability, logical and global thinking and the right self-composure even under pressure i.e. does not get distracted into absurdities under pressure?
Also, more importantly, is he the one all sections of the party and the Ghanaian society in general can identify with and be comfortable to approach and share ideas in mutual respect i.e. someone who is more of a collaborator rather than a boss, a natural mediator and someone who can build bridges across the ideological, ethnic, religious and gender divides in our party and Ghana in general.
Upon thinking through these questions and trying to match up my experiences with all the candidates be it close and from afar, I came up with the conclusion that YB comes on top in answering these questions in the affirmative without a shred of doubt in my mind.
I have had to deliberately leave my experiences for coming to conclusion in this write up as anybody who has observed these candidates whether from afar or near will come up with same conclusion upon objective and critical analysis.
In spite of excluding my experiences, I want to share an encounter I had with some people this Monday at the Tech Junction taxi rank in Kumasi. Whiles driving to work on Monday, I saw a cab at the Taxi Rank of whose registration number I shall leave unnamed. This taxi had a massive YB Poster cladding the back.
I got out and went over to find out why YB? The driver had a simple answer for me i.e. "YB di3 oy3 genuine, odo nipa, ony3 nyiyimu nso" which translates in English as "YB is a genuine person, he loves people and he does not discriminate too".
Another driver standing by also joined in saying "3ye ampa, man no di3 op3 nipa, ono nkoa ne candidate oba y3 constituency okyia me ns3m. Nkay3 no ne y3n twa picture k3k3, na okyia mpaninfuor no nkoaa. 3ma me p3 nas3m paa" which translates in English as "Yes its true, the man really loves people. He was the only candidate who shook hands with me when he came to our constituency; the rest only took a picture with us then shook hands with only the leaders. It made me really like him".
Another guy in one of the loading taxis also joined in. He told "omo fri campaign yi ase, wonte da s3 YB ayey3 obi ana s3 waka obi ho as3m boni, nipa saa na y3 p3. oy3 obia ob3 tumi ay3 adwuma no" which translates as "since this campaign started you will never hear YB insult or badmouth anybody, he is the kind of person we like. He is someone who can really do the job.
These responses further confirmed my conclusions. I then was reassured I am not alone and I know anyone reading this will not find any difficulty arriving at the same conclusion. I hope delegates allow themselves the chance to also arrive at this conclusion.