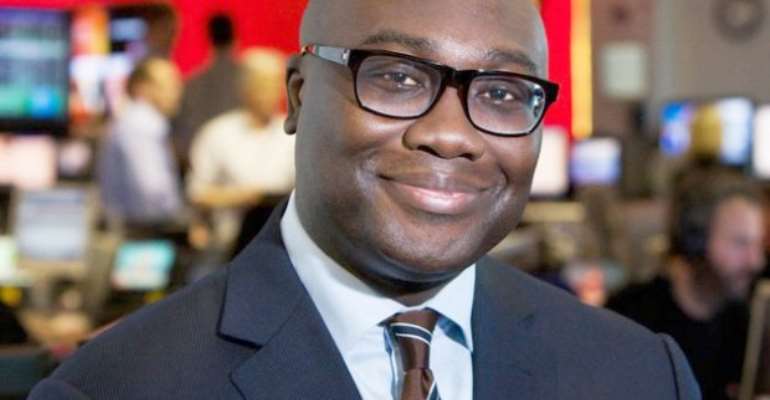 Members of Parliament yesterday paid glowing tribute to Komla Afeke Dumor, a renowned Ghanaian broadcaster who died on January 18 in London for his unfettered patriotism and the role he played in nurturing Ghana's fledgling democracy.
He would be laid to eternal rest over the weekend with a mass service being held for him at the Holy Spirit Cathedral, today.
He was profusely praised by the MPs for standing up to defend the rights of the governed  and also positively branding Ghana and Africa at the international level when he started working with the British Broadcasting Corporation (BBC) in the United Kingdom.
http://www.dailyguideghana.com/wp-content/uploads/2013/12/doe-adjaho3.jpg
Edward Doe Adjaho, speaker of parliamnet
"Mr speaker, I admire Komla Dumor for his courage and convictions because whilst working for Joy FM at a time Ghana's democracy was at its teething stage, he was the sole voice that stood against bad investments by Social Security National Insurance Trust (SSNIT) and misuse of contributors' money," the New Patriotic Party (NPP) Member Parliament for Effutu, Alex Afenyo-Markin said in a tribute stressing that Komla Dumor truly demonstrated his belief in Ghanaian being united by marrying a Fante lady despite the fact that he was an Ewe.
He said Komla Dumor stood by his convictions and beliefs despite the harsh criticisms that he sometimes received as broadcaster.
The National Democratic Congress (NDC) Member of Parliament for Keta, Richard Quashigah, added that Komla Dumor had left a huge legacy for journalism in Ghana setting a standard that every Ghanaian journalist must aspire to reach.
"Mr Speaker, Komla Dumor as a journalist greatly affected his generation and the vacuum that he has created will take a long time to be filled," he said
The NPP MP for Dome/Kwabenya, Adwoa Safo said indeed, Komla Dumor helped in no measure to deepen Ghana's democracy adding that he was always prepared to put politicians on their toes for them to do the right and never thought of his pocket.
"Mr Speaker, when I was a student at the University of Ghana, in the morning, almost all female students at the Volta Hall will tune into Joy FM to listen to Komla Dumor's incisive and educative morning show programme with his romantic voice," she said and suggested that looking at his contributions to deepening Ghana's democracy, a street must be named after him at Hatsoo in Accra where he resides.
The Minister of Information and Media Relations who is the NDC MP for Bawku Central, Mahama Ayariga said Komla Dumor was an inspiration to a lot of the youth in the country and his untimely demise had not only been a big blow to mother Ghana but also to many youth of the country.
The NPP MP for Ablekuma West, Ursula Owusu said Komla Dumor had a good heart to tolerate everybody and always stood by his beliefs and convictions.
She said as the country mourns this great son of Ghana, it would be important for all workers who work under stressful conditions to take their health matters seriously to avoid sudden mishaps.
The NDC MP for Ketu South, Fiifi Kwetey, for his part said Komla Dumor was driven by a cause that was far greater than him.
"Like many other heroes, Komla was not afraid to pay the ultimate price exacted sometimes on people who are not prepared to abandon their convictions and beliefs," he said.
Email: [email protected]
By Thomas Fosu Jnr