Sharubutu Cautions Ghanaians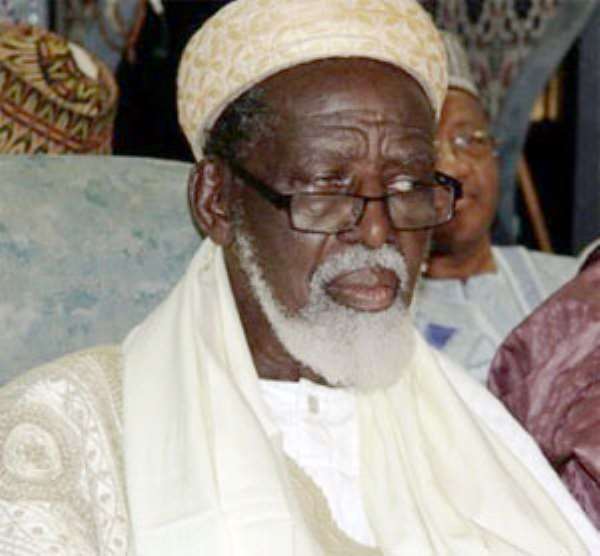 Chief Imam, Sheikh Osman Nuhu Sharubutu
The National Chief Imam, Sheikh Osman Nuhu Sharubutu, has advised Ghanaians to learn from the nasty developments in the Central African Republic (C.A.R) and the Middle East and to remain religiously tolerant towards one another in order to avoid witnessing a possible religious violence in the country.
'It is suicidal to remain aloof without acting with urgency witnessing the nasty religious violence taking place in C.A.R. and the Middle East,' the Islamic leader said.
According to the Chief Imam, failure on the part of Ghanaians to remain religiously tolerant towards one another could spark up a possible religious and ethnic violence in the country as being witnessed in the Central African Republic.
'A threat to one's religion could be viewed as a threat to the very existence and well-being of one's community. It is necessary therefore to respect the religion of others within our communities to avoid destroying their existence and well-being as humans,' the Chief Imam added.
The Chief Imam who addressed members of the press at his Fadama residence, said though the Central African Republic and the Middle East may far away from Ghana and other African countries, nobody  knows the next country that could suffer from any form of violent religious confrontations.
To this end, he urged all multi-religious communities living in a shared environment in Africa and the world over, to appreciate the need for dialogue as a key step towards eradicating avoidable religious clashes.
'Indeed, the lessons of the CAR should strengthen us as African religious leaders to work towards the institutionalisation of dialogue as a long term solution to the problem of religious violence on our continent,' the Islamic cleric pointed out.
Meanwhile, Sheikh Sharubutu called on all world religious leaders to speak up with a strong and collective voice to condemn the misuse of religion by some greedy individuals for evil ends. He pleaded with the Christian Council of Ghana, the National Peace Council, the GCRP, the National Catholic Bishops Conference and the Pentecostal Council to rise and condemn the atrocities in CAR and negotiate for a dialogue in settling the crisis confronting the once peaceful and stable region. The Islamic leader used the occasion to commend the various UN bodies, the AU and other sub-regional bodies including the government of Ghana for contributing peace keeping troops to the region under siege. Meanwhile, the situation in CAR continues to deteriorate as the bloody violence had left tens of thousands dead and entire communities displaced. Peacekeeping forces according to reports, have so far failed to stop the crisis considered as one of the worst nightmares in the 54 year history of the Central African Republic.
Email: [email protected] mailto:[email protected]
By Melvin Tarlue