Motorcycle transportation booming at Donkorkrom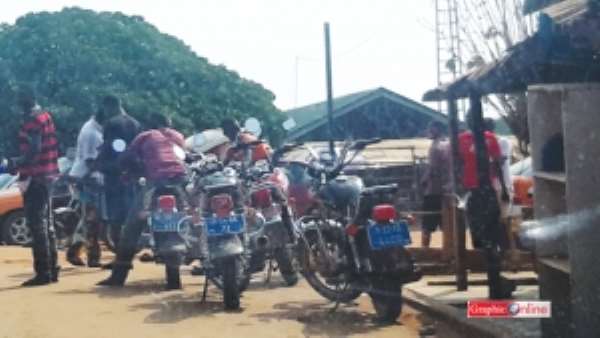 Donkorkrom in the Kwahu North District in the Eastern Region is fast becoming a business hub for motorcycle (okada) operators.
The okada business is booming in the town as the riders enjoy high patronage from the people, much to the discomfort of the police. Concerns of police
While people in the town see the okada as the best option of transport, the police there see it as a nuisance and a threat to security and safety.
The police are not comfortable with the okada business because besides the fact that it is unlawful in the country to commercialise the use of motorcycles, the carelessness with which the operators go about their business is a great worry to the police.
Another source of concern to the police is the fact that most of the operators do not have licences, while others ply their trade without both the riders and pillion riders wearing helmets.
In addition to that, operators notoriously  knock pedestrians down and speed off, especially in instances when they believe that nobody has seen them.
Meanwhile, residents in the town prefer moving about on motorcycles rather than taxis because it is cheaper and the motorcycle operators can manoeuvre their way on the otherwise unmotorable roads, particularly to the farming communities.
For instance, a distance that would cost a passenger GH¢5 by taxi would would cost GH¢1 on an okada.
The okada operators thus believe they are rendering a good service in addition to helping solve the serious challenge of transportation in the area because of the difficult terrain.
According to them, only motorcycles could travel to some of the communities. Police to stem practice
Briefing the Daily Graphic at Maamekrobo, the Deputy Commander of Police in the Afram Plains, Mr David M. Amevor, said the practice would not be allowed to continue.
He said he would brief the assembly on the negative implications of motorcycle transportation and was hopeful that the court in the district would help the police to deal with the menace to ensure sanity in the area.
Mr Amevor also said his outfit would start arresting okada operators, especially those without helmets and those who rode carelessly, to serve as a deterrent to others.
Writer's email: [email protected]