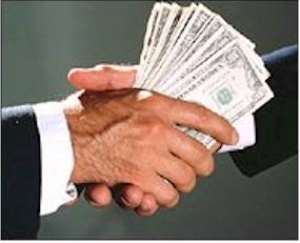 Court of First Instance Mbegwi (CFIM) was jammed to capacity. Furnished to sit under 30 people, plaintiffs, defendants, witnesses, lawyers, magistrates, court registrars and warders ready to convey the convicted next door to prison, numbered over 100. Some peeped into the court through the windows.
I allowed for the presiding magistrate to take his seat, and then I mobilized my 250 pounds pulling down my 5 foot 80' skeleton to the front. Hanging from my frame was a danshiki (African wear) bought in Accra, Ghana. Matching beads with a golden fish crafted by Ashanti goldsmith completed the Ashanti war messenger garb.
My message to CFIM was to stop corruption in the judiciary, at least for September 18, 2013.
I walked right to the middle of the court hall and bent double in a bow for his lordship, the corruptible judge. Then I walked to the benches (not very different from customary court setting in the 1920s and my client's family made space for me to settle down.
My timing was proper and the judge chuckled calling an adjournment of the session for five minutes while he fetched water, to clear the invisible object in his throat. Perhaps excess bribe money to tie the hands of justice in the present case.
CFIM was hearing a case against my friend on trumped up charges for threat of life, destruction of trees and theft of cassava. The property on which the said items were destroyed and stolen belonged to him as he held a land certificate over it.
The Presiding Judge chuckled on seeing me, because according to him I was there representing the anti-corruption commission, CONAC. Of course, all Cameroonians interested in breaking the neck of corruption are worthy and executive members of CONAC. I was therefore not an impostor being presented as CONAC agent.
The learned judge tapped on the adjoining door twice.
"Court!!!!!" Went the refrain from the house
Everybody staggered and stood up. The silence was deafening. You could hear the sound of my chief's straw hat which fell on the floor. Some of the physically-challenged motioned to stand up. The judge took his seat and the court sat down. My friend was called to the prosecution box where he remained standing, while the judge continued scribbling something on the court diary.
He read out the charges against my friend and asked whether the accused was a first time offender. The examining magistrate answered in the affirmative confirming that 66 years old Stephen was a first time offender.
The defense attorney was called up for pleadings.
"Stephen is a retired civil servant and widower taking care of his children alone. He has been of good conduct during his 33 years of service in the Ministry of Posts and Telecommunications. He has never been charged for theft or destruction of property. The court should show leniency to him." Said Barrister David and sat down.
Stephen was discharged and acquitted for threat of life. On count of destruction of property and theft, he was declared guilty and fined to pay costs.
This is just one example of the many bungled cases in Cameroon courts. The outcome would have been outright imprisonment if I had not come to court with the CONAC mask fitting daintily.
The case against Stephen should have collapsed from the moment the matter was filed against him by somebody whose opposition to his application for a land certificate was denied. As holder of a land certificate, Stephen had the inalienable and irrevocable right to quietly enjoy everything on the property.
CFIM was incompetent to hear the matter in the first place. It should not have ignored the position of the law stretching it to the point of ignoring the technical report from the registrar and conservator of lands.
As it emerged, both lawyer for the plaintiff and presiding judge corroborated, advised plaintiff to perjure and fabricate evidence to frustrate Stephen. Plaintiffs even forged State edicts and signed as in the hand of the Minister of land Tenure and State Property.
"We have pocketed the legal department and police in Mbengwi." One of the plaintiffs will boast in beer parlours.
From the same Cameroonian courts, the highest of the land, the Supreme Court, the presiding judge, Depanda Mouelle said "Our hands are tied." This was referring to the court's bias and interest in proclaiming the rightful owner of the 1992 Presidential election.
Corruption in Cameroon courts is a charming phenomenon. From the typist, through the court registrar to the presiding judges, they prove helpless in the face of corruption.
Some court personnel have even elevated themselves to the proverbial CHOP DIE.
"We eat today and whatever happens later, we damn the consequences." Some suicidal judges will say.
I have taken on corrupt judges before. The last one was in the Kumba High Court where a corrupt judge was swindling money from deceased peoples' accounts with the complicity of lawyers.
When my stories went out on social media, internet blogs and newspapers, I would be dragged to one of the courts where the guilty predators in the Cameroon judiciary will sue me for defamation and libel.
I have tactfully romanced with legal principles and precedence. With a bit of common sense I have been able to hold off the onslaughts of corrupt judges. At least, I stay away from their jurisdictions, inviting them to face me in neutral courts.
"A smart judge will only accept gifts from those who have a good case. Accepting bribes from those with bad cases is suicidal for judges." Said a retired magistrate, who claimed he never accepted bribes to influence trials.
If a judge was so suicidal to accept bribes, what was he counting on? Bribes for my CFIM judge would be trifles like bunches of bananas and firewood. He drives a pickup truck ready to carry even a bull.
Corruption is not just Cameroonian. It is global. But Cameroon seems to have natural manure fertilizing the practice on its volcanic soils.
An American businessman (May his soul rest in peace) landed in Cameroon and bribed his way right to the Presidency to be granted a land concession. His initial request was to be given 73,086 hectares for 99 years. Poor Bruce Wrobel claimed he was going to grow oil palm trees. Whatever he wanted to do with this land is not my focus now. I am only surprised that he caused the whole administration of two divisions and one ministry to hearken to his corrupt call.
Beer, cartons of fish and tons of rice were distributed freely in communities around Mundemba, Toko and Nguti. Herakles boys went far with their cynicism to subject communities to surgical operations in makeshift theaters in the villages under insalubrious conditions.
A Dr. Isidore Timti Scholarship scheme was launched to win the hearts of communities hosting the proposed lands for Herakles Farms.
All these schemes were conceived to ease Herakles Farms' infiltration of the communities.
I coined the term soft corruption to describe the type of imbedded corruption which cannot be unveiled and proven in a court of law. Once more, Bruce Wrobel's boys were dispatched to seek me out from the University of Buea to face defamation charges. I eluded them by carrying my laptop, my which is my media house, hence cyberspace to Nyen.
"Yes sir, I am ready to face you in any court on charges of defamation, if you took your case to the competent and neutral court." This was my reaction to all summonses for me to appear in court.
Cameroon Criminal Procedure Code lays down the procedure for hearing defamation cases. Such cases will only be heard where the crime of defamation was committed, at the place of residence of the criminal, or where he was arrested. To be arrested just anyway will need the issuing of a national arrest warrant cutting across different jurisdictions.
The angels of corruption, those high personnel who have banalized corruption are suicidal. They act like they believe the sparrow hawk (operation to arrest and prosecute the corrupt functionaries in Cameroon) would never catch up with them. They basically care less.
Entrance to most juicy professional schools in Cameroon, National Advanced School of Public Administration, ENAM (trains magistrates, administrators, tax inspectors, treasurers, customs officers and labour inspectors) is commercialized. A place in this prestigious school where suicidal angels of corruption are trained and ushered to "…Go ye forward and turn down no tip from the world as you make life difficult for Cameroonians…"cost FCFA 5,000,000 (US$ 10,000).
Understandably, the whole Cameroon public service is flooded by these angels of corruption ready to auction the country for a dollar, to get a million fold the 5 million they paid to enter the school.
Services at hospitals have to be bought. Safe passage on the highways is negotiated at one dollar. The police look the other way while a vehicle design for five is bursting with eight people as it passes through the controls dropping a beggarly dime in the hands of authorities.
"We carry three extra people for settlement." States Gilberto, popular driver on Bamenda-Mbengwi road.
Settlement is the non-negotiable FCFA 500 drivers hand to the multiple roadblocks in Cameroon. Thieves and other contraband dealers buy their way with dangerous merchandize just by flashing a coin or note worth one dollar.
CONAC just published its 2012 corruption figure. It stood at an all high 2,750 denunciations. Denunciations come from private members of the public who complain to CONAC about observed or perceived corruption.
"The dog barks, the caravan marches on." Said Tibi. She is a gendarmerie officer manning a checkpoint on Mbengwi road, after complaints about her overt corrupt practices. Even women, without gender bias are involved in corruption in Cameroon.
"I am collecting only FCFA 500. Do you know how much they collect in Yaounde?" Tibi asked.
Embarrassed, I warned her she will be denounced to CONAC.
"We need another CONAC to monitor CONAC. CONAC itself is corrupt." Tibi said
As blunt as that! The corruption monitor is corruptible.
I have not forgotten the role of the Honorable Chief Mbile, distinguished member of CONAC doling out corruption money to elites from Mundemba to influence their acceptance of Herakles Farms.
I await Mbile's defamation suit. He should come to me stealthily before the gods of Kupe Mwaneguba, lodged in Deck, who have blessed my fight against the spoilers of Cameroon, come after him. They went after the corrupt judge from Kumba. Deck gods trapped and smothered Bruce Wrobel who was preparing a defamation suit against me. They stopped Dr. Ndi Alfred from delivering his umpteenth summons for me to appear in court and answer for defamation as he cheated death in a ghastly car accident along Mbengwi road.
The long convoy of VIPs marching to Kondengui maximum security prison and other detention centers is very long. Unfortunately, it does not deter the angels of corruption.
Ah, the angels of corruption in Cameroon are suicidal. Good romance partner to state functionaries.
Fon Christopher Achobang
Social Commentator, Human rights activist
The Cameroons
Tel, (237) 9936 5954
(237) 7421 1066