NPP is being selective and hypocritical in calling for Nunoo-Mensah's head - Kwakye Ofosu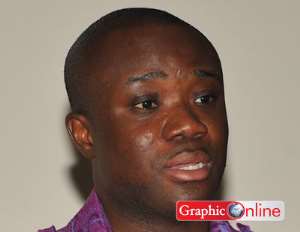 A Deputy Minister of Information, Felix Kwakye Ofosu has rejected calls by the New Patriotic Party (NPP) for the National Security Adviser, Brigadier-General Nunoo-Mensah (rtd), to be sacked over comments he made to the effect that public workers who were not ready to sacrifice and work should take their passports and 'get out of the country'.
Brigadier-General Nunoo-Mensah (rtd), who was speaking at the inauguration of a nine-unit classroom block at the O'Reilly Senior High School Saturday, had suggested that the government should no longer tolerate the phenomenon of workers laying down their tools every now and then, instead of using dialogue to resolve their grievances.
'If anybody goes on strike, he should not be paid. If you cannot sacrifice for the country the way some of us have done, then get out,' he said.
The retired Brigadier-General's remarks have been met with criticism and condemnation by a cross-section of the public, with labour unions and some opposition political parties being the most vocal critics.
The NPP Monday called on him to resign for what the party described as his 'reckless outburst'.
'The NPP finds the message of the National Security Advisor highly inappropriate, distasteful, and disrespectful to the platform on which he made the statement, considering the fact that the statements were made in the presence of the President amidst laughter. Unfortunately when the President got the opportunity he did not condemn the comments,' the statement noted.
'By his careless outburst at organised labour which will only create a platform for further tension and animosity between government and unionized labour, Gen. Nunoo-Mensah has exhibited to all, his incompetence in advising both Presidents Mills and Mahama on national security matters,' the statement continued
The NPP, therefore, called on the Brigadier-General Nunoo-Mensah (rtd) to resign with immediate effect.
The party added that if the National Security Adviser failed to resign, the President should sack him in order to demonstrate that he did not endorse what the party described as the retired Brigadier-General's 'irresponsible conduct'.
The call, however, did not go down well with Kwakye Ofosu, who implied that the opposition party was being selective and hypocritical in calling for the National Security Adviser's resignation.
Speaking on Accra-based Asempa FM, Kwakye Ofosu said it was 'inconsistent' for the NPP to call for his resignation when it failed to sack its General Secretary, Kwadwo Owusu Afriyie (Sir John) after he was fined by the Supreme for Contempt during the recently-concluded Election Petition hearing.
Ofosu-Kwakye, however, stressed that the government did not endorse Brigadier-General Nunoo-Mensah's comment.
He said the government was working with the aggrieved labour unions to try and resolve their differences.
The deputy Minister expressed hope that an amicable deal would be reached soon.
Graphic.com.gh/Ghana