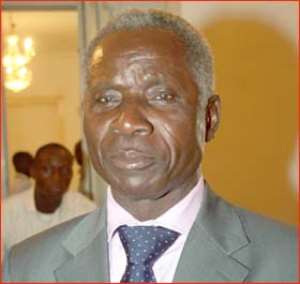 The embattled National Security Advisor says he owes nobody any apology for comments that have angered Ghanaians workers and some political groupings.
Brigadier General Nunoo Mensah (rtd) made the headlines for all the wrong reasons when he told Ghanaian workers to either stop the incessant strikes and demonstrations or move out of the country if the kitchen is too hot for them.
"Every Tom, Dick and Harry gets up and is calling for a strike. If you don't want the job, Ghana is not a police state, take your passport and get out of this country...
'If you can't sacrifice like what some of us have done then get out. If the kitchen is too hot for you, get out,' Brigadier General Nunoo Mensah is quoted to have said during the commissioning of a nine unit classroom block for Orielly Secondary School over the week end.
His comments have sent tongues wagging with some, especially political opponents, calling for the dismissal of the national security boss.
But Nunoo Mensah is adamant. In an interview on BBC Focus on Africa, Monday, the former Chief of Defence Staff said he is not against strikes but workers must be reminded that when they withdraw their services they must not expect to be paid.
"I am not against anybody going on strike. It's a constitutional right to go on strike but the point I was saying was that when you are on strike you withdraw your services, you don't work and yet you expect the government to pay you and I am saying that is not right.
"...If you are a worker here in Ghana and you don't believe what you are doing is greener enough for you, you are free to leave. You don't stay behind and mess up our lives," Nunoo Mensah stated.
He said given the current salaries, as compared to the salary he received in 1959, public workers in Ghana are blessed.
"The money I was getting in those days was equivalent to a $1,000 as CDS. Today, a man in that position is getting three times more," he said.
When asked if he will apologise for his comments, Nunoo Mensah retorted "I owe nobody any apology."
Myjoyonline.com