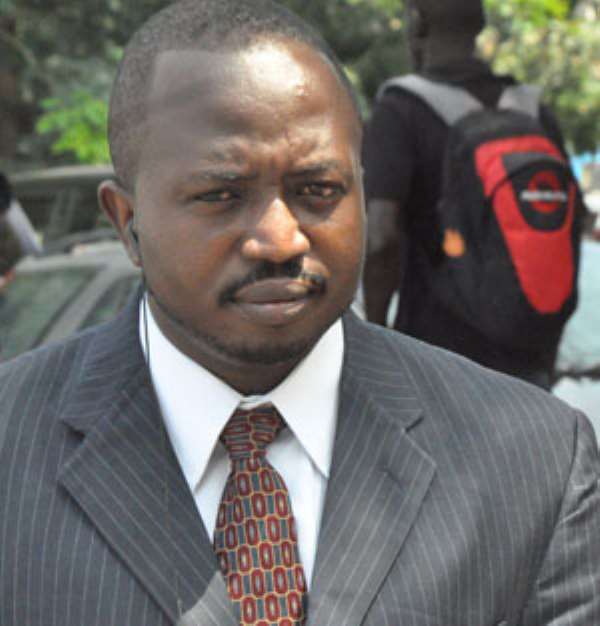 Mr. Stephen Atubiga
He went to jail for three days, for a crime that ought to have earned him a life-sentence and then some. Mr. Stephen Atubiga had declared a season of civil strife, should the Supreme Court rule in favor of Ghana's main opposition New Patriotic Party (NPP) and, in particular, in favor of the first petitioner of the Election 2012 presidential suit seeking to nullify the fraudulent declaration of President John Dramani Mahama as winner by Dr. Kwadwo Afari-Gyan, Nana Addo Dankwa Akufo-Addo.
In the scandalous opinion of Mr. Atubiga, the country cannot contain both Messrs. Mahama and Akufo-Addo. It has to be Mr. Mahama at the Flagstaff House or an all-out war! And for such criminally explosive statement, Stephen Atubiga was sentenced to a wrist-slapping three-day imprisonment, almost as if he were the junior brother or even the nephew of Jesus Christ. You know, looking at the striking similarity between the names "Atubiga" and "Atuguba," I thought that it had something to do with either ethnic affiliation or geographical solidarity - of the morbidly common sort that most Ghanaians know as "The Volta Alliance."
And then Mr. Kenneth Kuranchie, whose name sounds just like my own, linguistically speaking, that is, and who had only published a newspaper editorial aptly impugning the flagrantly prejudicial conduct of the presiding jurist on the Supreme Court panel hearing the Election 2012 Presidential Petition, was rudely and crudely and callously slapped with a ten-day vacation in the slammer, I suppose.
Well, the reason given for such gaping differential in sentencing by the Atuguba Court was that Mr. Atubiga had been repentant and apologetic of his rhetorical misdeed, whereas Mr. Kuranchie had rather insolently sought to justify his crime of criminal contempt of the Supreme Court. Mr. Atubiga, a loudmouthed and pathologically badmouthing member of the so-called National Democratic Congress (NDC), now calls himself a la Nkrumaist fashion, a prison graduate. Actually he styles himself as a "Senior Ex-Convict"; and so I guess Ken Kuranchie can conservatively dub himself a "Martyr of Democratic Governance." Mr. Atubiga also claims to have become a human and civil rights activist. Good for him!
Anyway, what I am driving at here is the rather presumptuous vow by the NDC communicator that if Mr. Kwadwo Owusu-Afriyie, the General-Secretary of the main opposition New Patriotic Party (NPP), also popularly known as "Sir John," is not promptly and rudely hauled before the Supreme Court and severely punished - possibly with a life-sentence - for presuming to impugn the judicial integrity of the presiding judge in the Akufo-Addo/New Patriotic Party petition then, he, Mr. Stephen Atubiga, would have no other recourse but to sue the august Supreme Court of Ghana for flagrantly violating his human and civil rights.
And like the veritable and cynical pretender that he indubitably is, Mr. Atubiga wants his audience of sympathizers to believe that even President Mahama would be liable for a criminal contempt of court prison sentencing, if the embattled Commander-in-Chief of the Ghana Armed Forces were found to be in breach of the same. Well, the fact of the matter is that Mr. Mahama is in ineluctable breach of Justice Atuguba's so-called Touchline Edict. He has gone on record as insisting to the Ghanaian public that, in fact, he was elected President of our Great Republic by God, or Divine Providence Himself, and not by the devious and criminally minded Dr. Kwadwo Afari-Gyan, the Electoral Commissioner. Now, that is a punishable double-whammy of an offence.
It goes without saying that Mr. Mahama is in breach of Justice Atuguba's Touchline Edict as well as raw and cold-calculated Blasphemy, for Ghana's Fourth-Republican Constitution does not permit God to play Dr. Afari-Gyan, or Electoral Commissioner. And clearly, Mr. Mahama is accusing God of having breached the 1992 Ghanaian Republican Constitution, a patent act of criminality of the highest order. And the NDC's Mr. Atubiga cannot claim to be unaware of the same.
We must also rather belatedly add the fact that Mr. Kuranchie, the newspaper editor-publisher, who was kick-boxed with the ten-day prison sentence, is a staunch member of the main opposition New Patriotic Party. And, oh, there is another young man on the Atuguba hit-list; his name is Mr. Hopeson Adorye. The latter stands accused of the same crime as Sir John (See "Atubiga Threatens to Sue the Supreme Court" Peacefmonline.com/ Ghanaweb.com 8/12/13).
The young man does not deny having made the clearly uncomplimentary remarks attributed to him. His one significant plea, however, is that he made his remark well before the pontifical pronouncement of Justice Atuguba's Touchline Edict. We are studiously watching to see how it all goes down.
Editor's Note:
*Kwame Okoampa-Ahoofe, Jr., Ph.D.
Department of English
Nassau Community College of SUNY
Garden City, New York
August 12, 2013
E-mail: [email protected]
###