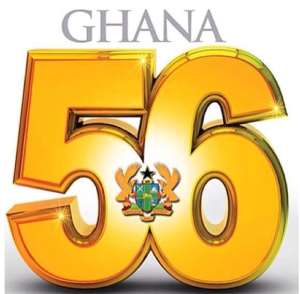 The Akans have a saying that literally translates: "A man doesn't cry". What this implies is that, an adult must not cry no matter what. It will therefore be deemed shameful for an old man, and for that matter, a man with only 4 years into his retirement to be crying every other day for lack of amenities as basic as potable water. That man is Ghana.
Wonder why I refer to the country as "man"? Tell me which woman has ever ruled it before? Forget the consolation adage that "Behind every successful man is a woman".
The lights were out when I left the house at dawn yesterday and when I returned at night, they were still off. My colleague who lives in Dansoman said they went without electricity for 2 days. The one living around Parakou Estates has bought five different smocks that he wears for each of the five working days of the week because that is the only clothing he can step out with un-ironed and without anyone noticing. All of these are happening in Accra, the capital of 56 year old, grey headed and bearded Ghana.
It's not as though he has saved or invested enough to cushion him when he strikes 60 next four years. No! His president still says: "We WILL do this and we WILL do that." "We HAVE DONE" rarely gets mentioned, if at all.
On Independence Day, thousands of school children, alongside personnel from some security agencies converged on the Independence Square to march their sweat off under a scorching sun. That has been the ritual since I first saw the event on our rich neighbour's Black & White TV back in the village.
The number of unemployed graduates increases by the year while the various Senior High Schools churn out a lot of people who would only go back home and continue to eat from their parents' kitchen because they cannot not go to the university, which would only go to adding up to the numbers that are roaming the streets with BIG certificates that mean nothing anymore.
As the electricity continues to behave like disco lights in the country, the Ghana Urban Water stuns all by announcing that it is going to ration water. "As if they are not already doing that!" my colleague in the office exclaimed. You are 56 years old, you have no electricity and no water, yet, you pride yourself in having the biggest man-made lake in the world. Like seriously? Sell it and buy candles!"
When Dr. Kwame Nkrumah told us and the rest of the world on Independence Day that when "given the chance, the black man can prove to the world that he can manage his own affairs," we were inspired and energized to do just that. And indeed, we started doing that. Down the road however, we derailed and fell into an abyss and even though there is a rope dangling just above our heads that we can hold unto and climb back up, we have failed. Either because the rope is shielded by our leaders or we are just not making any effort as a people to find that rope ourselves or both.
The only thing we can boast of at 56 is a robust democracy. Na democracy we go chop? Even that one is challenged every election year. In 2004, it got a challenge and in 2012, it is currently facing the strongest challenge yet.
Someone remarked that if Ghana were a man, (which I believe it is), no one would marry him and I agree. Which kind of irresponsible man is this? The people you kicked out, the whites, had a brilliant rail system working here, albeit for their own selfish interest. You take over with high hopes and today, the only train that is seen in Accra should be an apology to every Ghanaian. Accidents that occur as a result of poor roads are uncountable. People's negligence has led to the loss of lives many a time, while we clasp our hands and watch in despair.
The filth engulfing us is enough to have given the president SLEEPLESS NIGHTS but I think his recent announcement that he can't sleep is more to do with the lack of air conditioning in his room rather than the nationwide 'dumsor, 'dumsor' that he wants us to believe.
Lee Kuan Yu's Singapore became independent around the same period as Ghana but when you put their respective successes on a scale, the least you can do as a Ghanaian is bury your head in shame. Politicians, meanwhile, are on a daily rat race to lead the country as though they had any better plan of "taking us there". We have tried them and failed, leaving us wondering if we will ever get there.
The lavish birthday party we threw in 2007 when we turned 50 is still fresh in my mind. That money could have provided decent accommodation in Accra for small salary earners to rent, so they can also have peace of mind, or provide potable water for the people of Nkwanta so they will not have to dig deep in search of water- a thing that has further dashed their hope after being told the substance they found in the ground during their digging is not crude as they hoped but rather, dirty oil.
And talking about oil and dashed hopes! Is there anything to show that we have also started digging some here on our blessed land? I haven't seen any oil-related difference in my life nor in my neighbours' since the president turned the tap for it to flow a few years back.
The annual polishing of the few land marks in the capital has been done ahead of today's celebration. As I write this in the office though, the generator outside is roaring because the Electricity Company of Ghana has done it again.
I guess the maxim, "Ghana Must Work Again" ought to be re-enforced otherwise, there might be no tears left to cry should we want to cry @57.

By Umaru Sanda Amadu
(www.umarusco.blogspot.com)