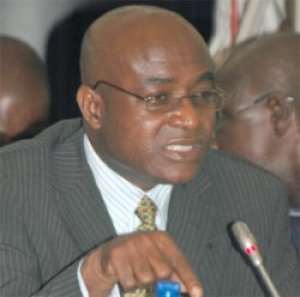 Minority Leader Osei-Kyei-Mensah Bonsu
Members of the Minority NPP in Parliament "do not have their own minds" the Deputy Majority Chief Whip, Hon Sampson Ahi has said.
"The Minority MPs" according to him "are behaving like robots as if they cannot think and take decisions for themselves." He made the comments in a fiery tone after President John Mahama delivered his maiden state of the nation address to a half empty chamber of the sixth Parliament of the fourth republic.
The Minority boycotted the constitutional event in line with their national party's call for sustained political pressure on John Mahama, a man whose election as President the NPP has called "fraudulent".
Mr. Ahi alleged that today's [Thursday] walk out staged by opposition MPs was on the orders of the party's General Secretary, Kwadwo Owusu Afrieyie. "I saw Sir John in Parliament giving instructions to NPP MPs to leave the House just before they walked out... that was after the Minority leader himself had told the world that they will sit in Parliament and listen to the State of the Nation address", the MP stated.
Asked how he could have seen the NPP General Secretary when he was in the chamber at the time of the walk out, the Bodi MP said "I am a deputy chief whip and I am on the ground".
"Their walk out was irresponsible, shameful, barbaric and very disrespectful of the Speaker. They did not even have the courtesy to inform the Speaker before walking. This is unacceptable," the NDC MP for Bodi, told Citi FM's Richard Sky after proceedings.
"The Minority must be told in the face that Ghana does not belong to them. The country belongs to all of us so they can't hold this nation to ransom", he added. Asked if his very strong words were not unbecoming of a deputy Chief Whip whose job is to ensure a smooth working relationship between both sides of the House, Hon Ahi responded "do you think their irresponsible conduct shows a people who are ready to cooperate and build the partnership the President spoke about last year? Certainly not"
"Their walkout was reckless and unnecessary. And it was a big insult to their constituents and the people of Ghana," the NDC MP said.
Although NDC MP's boycotted then President John Kufour's state of the nation address in 2007 after the then NDC MP for Keta, Dan Abodakpui was jailed by an Accra Fast Track Court, today's Minority boycott is the first against a sitting leader who was delivering his maiden state of the nation address to a new Parliament under the fourth republic.