7 February 2013
|
Letters
Agriculture The Backbone Of Ghana
An Area President Mahama Must Support Greatly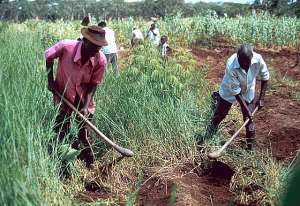 Agriculture is the backbone of any dynamic and forward looking economy with Ghana not in exception.
It plays an important role in socioeconomic development by ensuring food security, providing raw materials for foreign & local industries; generate foreign exchange and income for most of the population, majority of which is rural-based as well as providing employment and other strategic rural – urban economic turnaround opportunities.
Governments must live up to its commitments to invest at least 25% of the national budgets in agriculture, in order to address the current food crisis and break Ghana's present dependency on the whims of the global market.
Government must once again find solutions for increasing agricultural production that are both socially and environmentally sustainable.
Investing in Agriculture for Economic Growth and Food Security is a golden step to Ghana's development. Ultimately a nation that cannot feed itself will always be hostage to the interests of those who feed it.
These turnaround opportunities are seen in two economies like Brazil and South Africa. These two had turned around their rural areas through agriculture and agribusiness and with youths as the center into semi and major urban centers.
Ghana's greatest opportunity to industrialize, to create new jobs, lies in agriculture. Agriculture is the backbone of Ghana's economy and the mainstay for the large majority of the population. It directly employs 60% of the total labor force and provides the main source of income for 90% of the population. Our small scale farmers must empower themselves. They are Ghana and Africa's main line of defense in ensuring food security.
"If agriculture does well, the rest of the economy does well. We need to ensure that our agriculture feeds us first"

ISAAC OFFEI DEBRAH
Ashaiman Senior High School
'Agric B'