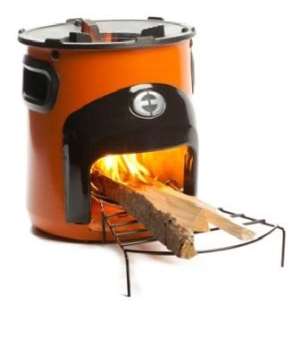 Envirofit International has started a partnership with Ghana's Centre for Energy, Environment and Sustainable Development (CEESD) to promote its clean efficient cookstoves on the local market.
The social enterprise project focuses on developing clean technology solutions for economic value creation and health improvement in emerging economies.
The clean cookstoves help save fuel and time whilst reducing toxic emissions from wood and charcoal as cooking fuel, says Ron Bills, CEO and Chairman of Envirofit's Board.
"Whether you are buying wood or collecting wood, you can pay half as much or collect half as much and have more time for family or income generating activities. So there is the cleanliness, the fuel savings and the time to cook, so then it's faster, it's less expensive and cleaner", he said.
The CEESD has taken delivery of some 8,000 clean efficient cookstoves from Envirofit, barely ten months into the partnership.
Director of the Centre, Julius Ahiekpor, says about 5,000 units have so far been distributed and he is enthused at the success in sensitizing the public to appreciate the harmful effects of traditional cookstoves and the need for change, most especially among the country's rural population.
In Ghana, domestic use of Liquefied Petroleum Gas (LPG) has been promoted as a cleaner fuel option – consumption has increased from 0.8% to 18% within the past 20 years, with a government committed to increase the penetration to 50% by 2020.
But with the present shortfall and challenges in supply of LPG, firewood and charcoal remain the dominant source of cooking fuel. Such wood-fuel produces indoor pollution, killing about 66,000 Ghanaians annually.
The Global Alliance for Clean Cookstoves, a public-private partnership led by the UN Foundation, has allocated US$2million to support entrepreneurs in countries like Ghana to contribute meaningfully to the cleaner fuels sector.
According to Ron Bills, Envirofit, which is member of the Alliance, is interested in promoting sustainable alternative to clean cooking.
"Just as I would like to see LPG adoption rate in Ghana climb, but there is still over 70% that don't have LPG and that's what we're trying to address, not as an alternative to LPG but as alternative to clean cooking", he emphasized.
Envirofit's cookstove technology contributes 80% reduction in smoke and toxic emissions, 50% reduced cooking time, 60% reduced fuel requirement, 50% reduction in fuel costs and 40% improvement in cooking efficiency.
The organization has within the past five years distributed more than 450,000 stoves in 55 countries and affecting more than 2.2 million people across the globe.
CEESD's Mr. Ahiekpor said there are discussions to localize production of the cookstoves with the increase in sales volumes.
"If we're able to get large volumes, if we're able to expand sales, we should be able to assemble parts here [in Ghana]", he noted. "One of our major challenges has to do with import duties, so we believe that if we're able to localize production, if we're able to assemble parts here, we'll have some tax rebates that can help us distribute the stoves at cheaper cost to the end users".
Envirofit's cookstove technology is robustly engineered and culturally customized to meet local environmental needs.
Story by Kofi Adu Domfeh/Luv Fm/Ghana