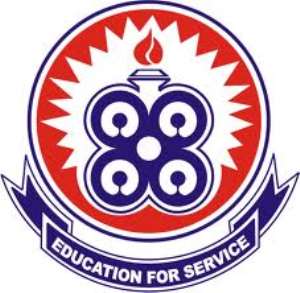 Winneba (C/R), Sept. 15, GNA - The University of Education, Winneba, (UEW) Co-operative Credit Union Limited made a net profit of 165,906.86 Ghana Cedis in 2012 as against 136,822.12 Ghana cedis last year.
Its total savings increased from 1,512,164.62 in 2010 to 2,172,021.30 Ghana Cedis as at June 2012.
The chairman of the Board of Directors of the Union, Mr Andy Y. Agordah, made this known at the 14th Annual General Meeting of Shareholders in Winneba on Thursday.
He said the Union's total assets had grown from 1,533,127.36 in 2009 to 3,050,300.44 Ghana Cedis in 2012.
Mr Agordah said the Union has planned to acquire land at the Kumasi campus of the UEW for the construction of hostel to help solve accommodation problem facing the students.
He mentioned delays in releasing of funds deducted at payroll on behalf of the Union, as a major challenge to the smooth operation of the Union.
The Vice-Chancellor of the UEW, Professor Akwasi Asabre-Ameyaw, said the Union that started with 28 members now has a total membership of 1,402, comprising mostly staff of UEW from all the campuses.
He promised that the University would do its best to release cheques for savings and loans deductions promptly to enable the Union to meet the demands of its members.
Advertisement
The General Manager of the Union, Mr Oduro Darko appealed to members to insure their loans to enable them to benefit from the Union's loan insurance policy.
According to him ''under the policy, members who insured their loans, compel the Credit Union Association to reimburse their loan balance to their credit unions, and refund whatever a member has paid to his or her beneficiaries in the event of death or total disability.''
GNA