Global electronics giant, Samsung unveiled the Galaxy Note 10.1 to the Ghanaian market on Saturday September 8, making Ghana one of the few countries in Africa to see the release of the much-talked about newest extension of the Galaxy Note category.
The Galaxy Note 10.1 is outfitted with the functionality and precision of a pen and paper on a 10.1-inch large display, providing possibilities to elevate a user's creativity, productivity and learning abilities. Featuring an intuitive user experience and armed with a 1.4GHz quad-core processor and 2GB RAM for enhanced performance, Galaxy Note 10.1 is designed to simplify idea capture, information access, and multi-tasking, making each easier and faster.
Speaking at the launch at the Silver Lounge at the Accra Mall, Ryan Na, Samsung Ghana's Senior Manager, Sales and Marketing said that the Galaxy Note 10.1 further demonstrates Samsung's dedication to delivering products that offer a complete mobile experience for creating personalized and expressive content. He pointed out that the device is an ideal learning tool that allows users to take notes directly on an e-textbook while watching lectures, or research the Web while writing an essay at the same time.
Tetteh Akornor, Product Manager for Samsung Ghana in demonstrating the benefits and use of the Galaxy Note 10.1 highlighted that the taking of notes, capturing of ideas immediately, and sketching to realize them is the most personal and natural way to be more productive and creative. He added that the advanced technology and features included in Galaxy Note 10.1 give users the power to produce, create and customize communications.
Several other features have been added to Galaxy Note 10.1 including Smart Stay, which tracks the user's eyes to ensure that the screen is always on while being looked at, and Pop Up Play, which allows the user to watch a video anywhere on their screen while simultaneously running other tasks. With the Galaxy Note 10.1's multi-screen feature, users can utilize two different applications side-by-side, simultaneously, for easy multitasking; users can view Web pages or videos, or open other applications while writing or sketching ideas with the S Pen on the other half of the screen.
Advertisement
Users can capture and crop images, and paste them onto the other screen to make personal notes and enhance their creativity, productivity and learning abilities. The company also claims that the multi-screen feature increases productivity and efficiency while users are enjoying multimedia content. The 6.5mm S Pen is optimized for the creation of personalized and expressive content in a natural and intuitive way. The S Pen is embedded directly in the device and, when removed, automatically opens specially optimized applications, including S Note, S Planner, Crayon Physics, Adobe Photoshop Touch, and Polaris Office.
With AllShare Play, users can share content with a large group in real-time by connecting Galaxy Note 10.1 to Samsung HD TVs, mobile tablets, laptops, and other consumer electronic devices on the same network. With AllShare Group Cast, users can also share and collaborate on documents, presentations, or images without loading the files separately.
Galaxy Note 10.1 comes with a WiFi-and-3G HSPA-Plus connectivity. Jaspreet Singh, Business Leader Handheld Products at Samsung Electronics West Africa joined the other officials from Samsung Ghana to officially launch the product in Ghana. Mr Ebenezer Ampadu, Head of Terminals at Vodafone Ghana announced a special package from Vodafone at selected outlets which include double bonus on internet data for new purchases. Galaxy Note 10.1 is available in Ghana at an approximate retail price from GhC 1,600.
The launch was attended by several guests from the creative and media industry, who asked questions on how to use Galaxy Note 10.1 to enhance their works, and a few who shared their experiences with using the device for work. The launch continued with a showcase of the Galaxy Note 10.1 at an open studio in the Accra Mall where the public got to observe the functions of the device at close range. There were graphic designers at the studio, who used the Galaxy Note 10.1 to sketch some guests.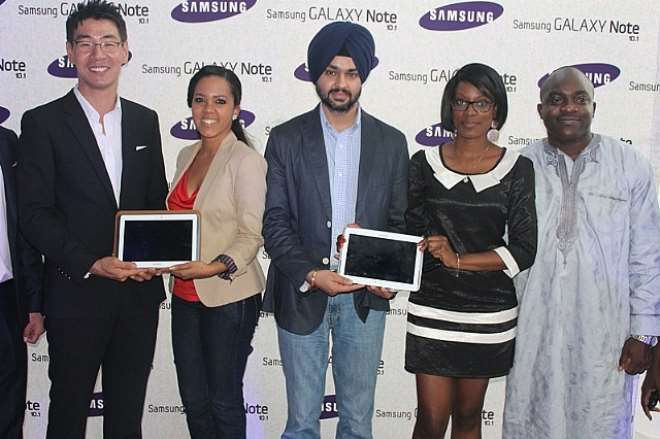 RYAN NA, CRYSTAL JEANE, JASPREET SINGH, TRACY TAKYI, TETTEH AKUNNOR