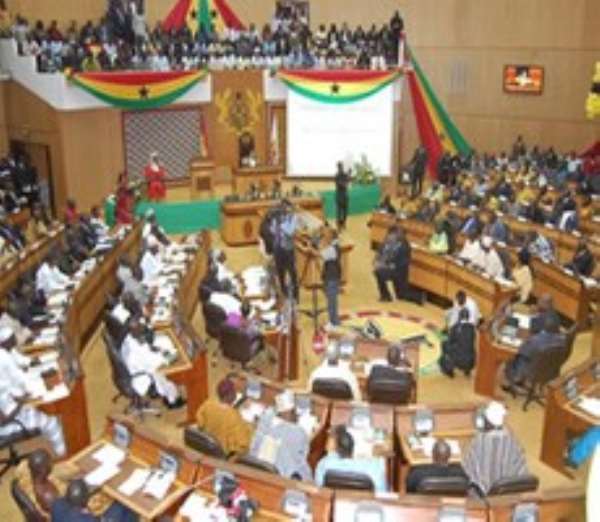 Parliament's subsidiary legislation committee working on the Constitutional Instrument that will finalize the creation of 45 new constituencies has rejected the document.
The committee is subsequently recommending that Parliament as a whole reject the CI because it says it is untimely and full of errors.
The move comes just days before the CI was due to mature having been with Parliament for almost all of the 21 sitting days required by the constitution.
The creation of the new constituencies has generated heated debates for weeks with some legal attempts to block it currently pending in court.
Joy News' Parliamentary Correspondent Sammy Darko explains the implications of the committee's recommendation.
He noted that Parliament extended sitting for two more weeks just to allow enough time for the CI to mature. But with three days to go, Parliament's subsidiary legislation says the CI must be rejected. This may not go down well with NDC MPs who have pushed this through all along.
Joy FM is in possession of a copy of the report of the committee which cites serious errors in the documents as a basis for rejection.
For instance, it said, eight constituencies were not put under any electoral area. This means people in such constituencies cannot vote within their own areas.
The committee also considered petitions from some Ghanaians and civil society groups. One such group is the centre for democratic governance-CDD. The think tank gave about four reasons why the creation of the new constituencies must be stopped.
According to CDD, the EC appears to have misinterpreted the law that grants them power to review constituencies to mean increase in the number. For them, review means altering boundaries of constituencies and not necessarily to increase the number.
Another reason is that there is a subtle perception that the EC is favouring the ruling NDC in creating the new constituencies. CDD also said MPs are currently without logistics and research assistances, noting that adding more will only worsen the situation.
They maintained that the existing ones must be maintained and well resourced instead.
The committee's rejection of the new constituencies will mean a show down on Wednesday between the Majority And Minority MPs.
Joy News has learnt that Majority MPs will push for it to be passed while the Minority will call for its rejection - In this case only the side with a higher number will have its way.