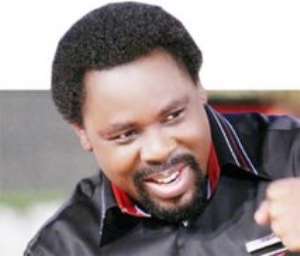 In the first installment of this article, I specifically made mention of the Nigerian fake prophet, T B Joshua, who ignorant believers in Ghana, Nigeria and elsewhere regard as a "great man of God" but who is actually a false prophet, a wolf in sheep's clothing, who has been deceiving people with the connivance and collusion of his so called disciples, who are nothing but mere puppets and lackeys in the hands of an ignorant and false prophet. Some ignorant believers would also say, " Touch not my anointed," or " Don't judge ! " or things of that nature, not knowing that the Word of God commands us to " Believe not every spirit, but test the spirits to see whether they are of God, for many false prophets have gone out into the world." 1 John 4:1. Many believers cannot discern who a false prophet is, because they don't even know their Bible, by which standard we're to test and judge all things. And, yes, the Bible commands us to judge, not hypocritical judgement, but righteous judgement. Matt 7:1-5; John 7:24. To such people, I say that they must shut up their stinking mouths and go learn the Bible !
The issue of false prophets is a very serious matter and God commands them to be killed in the Old Testament, and throughout the Bible there're several warnings against them, but many believers today are so ignorant of the Word of God that they're being deceived by many false prophets and yet they don't even know it. No wonder the Bible says that the people are destroyed because of their lack of knowledge. Hosea 4:6. Ghana has her own crop of false prophets and they're everywhere, claiming to speak in the name of the Lord, when the Lord has not sent them, nor even know them. Jeremiah 23: 1-39.
Advertisement
In the first installment, I mentioned how T B Joshua came to deceive Ghanaians with manipulated miracles involving 20 Ghanaians who are all now dead. Kayode of Awakener's chapel and Michael Lathbridge were part of this great deception of Ghanaians and must tell Ghanaians of their part in this crime against the people of Ghana. Through deception, lies, deceit and manipulation, T B Joshua warmed his way into our seat of government, and into the heart of the late Atta Mills. Previously, he had also warmed his way into the heart of the late leader of Nigeria, Sanni Abacha, who also died suddenly. I made a comment in TBJoshuaWatch.blog.com, that those African leaders who put their trust in T B Joshua would die suddenly like Abacha did and now it's happened to Mills. I don't claim to be any prophet but this is what I said and this is what happened. Now who is next ?
We have tried T B Joshua by the Word of God and found he is a false prophet, a manipulator, a liar, a fornicator, adulterer, deceiver, who is only after " projecting his name !" Yes, T B Joshua wants to project his name, and that's what he told us during the Ghana crusade in 1997. He said it in the presence of Kayode, Michael, Obanla, Sammy and myself. He claims to have a special relationship with God, in so much that God even shows him the results of football matches before they're played, yet God did not show him the deaths of these two African leaders who were deceived into thinking, " This man is the great power of God." Acts 8:10. T B Joshua has deceived and is still deceiving many and my duty is to warn those who have ears to hear. I'm sounding a warning to President Mahama and other leaders of our country to keep this false prophet out of our seat of government. He can continue to deceive his own people in Nigeria, but we have had enough of him !
Nii Ayiku Amartey