Tell Ghanaians T B Joshua is a false prophet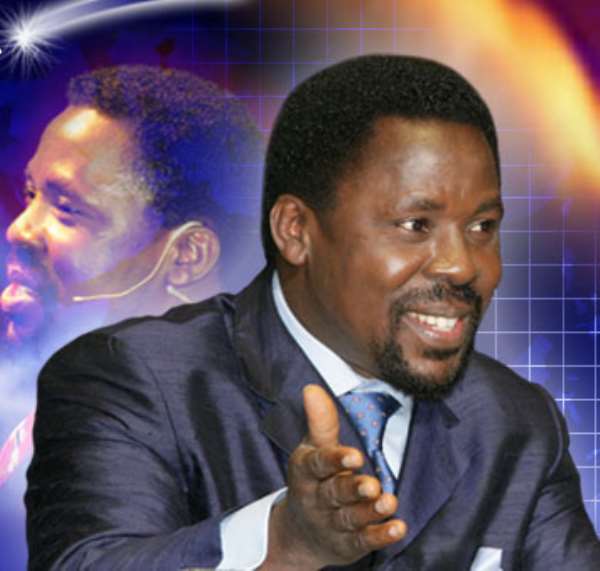 I've been following your articles on T B Joshua and I want you to tell Ghanaians that T B Joshua is a false prophet who is desperately trying to make a name for himself by whatever means, and Ghanaians should not be deceived. T B Joshua may have made some correct prophesies and performed some miracles, but that doesn't make him a true man of God. Have you checked out Deception of the Age on Youtube yet ? There're some shocking revelations there about this Nigerian conman who calls himself a prophet. In fact, Joshua fits perfectly the warning of Jesus in Matthew 7:21-23 and Matthew 24:24.
I'm a Ghanaian who was based in Nigeria and attended the Synagogue church. I had a short time working with Joshua, and was instrumental in bringing Joshua to Ghana in 1997, to hold a crusade at the Kaneshie complex. At the time, I thought I had seen a real man of God, until the scales began to fall, through Joshua's own utterances. ......That kept me on the alert, but knowing little Scripture then I had little to stand upon. Now, after going through theological training here in the United States, I have checked Joshua's teachings in the light of Scriptures and found him wanting. In short, Joshua does not have the doctrine of Christ and he teaches doctrines of demons, the latest being that he has a divine nature, and the Bible warns us that anyone who does not have the doctrine of Christ should not even be entertained. 2 John 10. Joshua tries to compare himself to Jesus and is by every means a false Christ, who has been able to manipulate things through the connivance of his lackeys, such as Kayode of Awakener's Chapel, Mike Lathbridge and all of his so called disciples. Another problem is the ignorance of many Christians who don't know the Word of God. They think miracles and prophesies make a man a " man of God," and cannot read between the lines.
T B Joshua is fake. He manipulates miracles to make himself look good and to seek for approval and acceptance, and so far he's been able to deceive some leaders across Africa, including our own Atta Mills. They forget that T B Joshua was a close confidant of the late Abacha of Nigeria who died unexpectedly and suddenly. You may want to ask Kayode to elaborate on the fake miracles involving 20 Ghanaians who are now dead. Mike was part of this facade to deceive Ghanaians, but he is bent on protecting T B Joshua's secrets and is an unpatriotic Ghanaian. Please just publish this letter so fellow Ghanaians should know the truth about T B Joshua, and decide for themselves whether or not to follow a false prophet or Jesus Christ who bought us with His own blood. And let it be known that T B Joshua actually slept with Kayode's wife and got her pregnant. In this regard, I believe Kayode's story, because it was confirmed by Agomoh and Bisi, both ex-disciples of Joshua. Joshua is a real motherfucker and not the man of God he claims to be. He is a false Christ and the Lord Jesus already warned us about them.