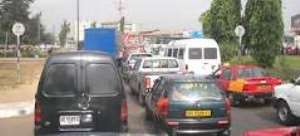 The Kumasi Metropolitan Assembly (KMA) will be asserting its legal mandate to limit self-regulation of road transport as it activates the short-to-long term transport management system.
Public transport operations have largely been in the hands of private operators, who "act as both players and referee" in commuting over 70 percent of motorized person trips in the form of trotro, taxi and bus transports.
The KMA's Urban Passenger Transport Unit however wants the system changed through the implementation of the Urban Transport Project, which seeks to ease traffic.
"We are talking of a reform of the whole system", says Unit head, Mark Obeng Konadu. "Someone has run trotro for 20 years, we're starting to tell that person that trotro is not a vehicle for commercial passengers in the next decade or so… the operating system of the unions themselves would have to change; we have to get them to organize more as corporate bodies, then we support them to go for bigger buses to be run along guidelines set by the Assembly".
The increasing human and vehicular population has come in its wake challenges in managing traffic.
Commuting within the city today for daily business activities has become very difficult because of congestion in accessing road networks.
Several attempts in the past to decongest the roads to ease traffic have not yielded the needed results.
But according to Mr. Konadu, a more sustainable urban transport system is being developed under the Local Government Act (Act 462), which mandates local assemblies to plan and regulate urban transportation within their jurisdiction.
He has speaking to Luv Fm on the short to long term plans to manage road transport and vehicular traffic in the Kumasi metropolis.
He said the new approach within the urban transport project is to minimize the focus on revenue and rather plan holistically from a "total regulatory point of view", stating that bus services will be introduced within the short term – 2012 to 2016.
Mr. Konadu noted the Assembly is seeking a re-engineering of the city to accommodate the modern trends of transport management and integration of urban transportation planning.
An operator consulting group is currently discussing modalities to make the system work, he said.
He anticipates challenges with space to accommodate new infrastructure and change in perception, but observed financing would not be a problem.
"We are not really worried about the finances because we know that as a business, this thing is very lucrative; if we put the systems in place it will pay for itself in a very short time and we have financiers who are prepared to help kick it off because they know how profitable it is", stated Mr. Konadu.
Story by Kofi Adu Domfeh/Luv Fm/Ghana