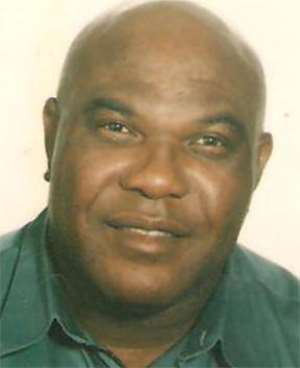 Victor Dike, Nigerian-born US Professor
With the dust raised by his suit against the Governor of the Central Bank of Nigeria(CBN), Mr. Sanusi Lamido Sanusi, whom he accused of grossly violating his intellectual property rights by extensively plagiarizing his work in two public lectures he (Sanusi) gave at two Nigerian universities still heavy in the air, Victor Dike, a Nigerian-born United States-based professor is in court again.
This time, Dike who is of the School of Engineering & Technology, National University (Sacramento Center) Sacramento, California, has dragged two Nigerian professors, Steve O. Tamuno and Needorn Richard Sorle, of the Department of Economics, University of Port Harcourt, to court for plagiarism.
The suit (No. FHC/PH/CS/154/2012) which was filed on Dike's behalf by his attorney, Onyinye Obiaju, came up for mention before Justice L. Akanbi of the Federal High Court 1, Port Harcourt, on June 12, 2012. But Professors Steve O. Tamuno and Needorn Richard Sorle were absent in court. Consequently, the court gave an order that the defendants be served with notice of the next hearing date which is November 6, 2012.
In the statement of claim signed by his counsel, E.U. Chinedum Esq., Prof Dike avers that he is the original author of the article: "Corruption in Nigeria: A New Paradigm for Effective Control" published in the AFRICAN ECONOMIC ANALYSIS, and later republished in the NIGERIA ECONOMIC SUMMIT GROUP (NESG) – Economic Indicators (2003) July-September 2003, Volume 9, No.3 (p.32-45), under a new title, "Corruption in Nigeria: Understanding and Managing the Challenges." This article, he claims, was copied verbatim by the defendants and published as their own work in the JOURNAL OF RESEARCH IN NATIONAL DEVELOPMENT VOLUME 6 NO 1, JUNE, 2008, under the heading, "Corruption and Economic Growth: A Survey of Three Institutions In Nigeria," without properly acknowledging him as the original author.
Although in a letter entitled "Alleged Case of Plagiarism" dated January 21, 2012, the first defendant (Prof Steve O. Tamuno) on behalf of himself and the second defendant (Prof Needorn Richard Sorle) apologized to Prof Dike for copying his work without properly acknowledging him, the plaintiff was not satisfied with that apology as the defendants had failed to retract the same article from the internet as demanded by him. Moreover, the plaintiff avers that his credibility has been called to serious question as his articles are no longer regarded highly by readers since their discovery that the very opinions he expressed have also been rendered verbatim ad literatim in the work of another person. Due to this incident, he claims, readers who had held him high esteem before now are beginning to doubt whether he is indeed the author of articles ascribed to him. This has caused him undue embarrassment, pain and stress.
He is therefore asking the court to declare that Profs Steve O. Tamuno and Needorn Richard Sorle plagiarized his work and breached his copyrights.
He also wants a perpetual injunction restraining the defendants from citing the publication in the JOURNAL OF RESEARCH IN NATIONAL DEVELOPMENT (Volume 6 No. 1, JUNE, 2008) entitled "CORRUPTION AND ECONOMIC GROWTH: A SURVEY OF THREE INSTITUTIONS" as their original work.
He is equally asking for an order mandating the defendants to retract immediately the said article from the public and the University of Port Harcourt website.
He also wants the court to mandate the defendants to send him a written apology which must also be published in at least one national newspaper and in addition pay him the sum of N27 million as damages and the cost of the suit.
It will be recalled that on Monday April 23, 2012, a Federal High Court in Abuja, had given orders that the CBN governor, Sanusi Lamido Sanusi, be served with a writ of summons filed by Prof Dike who had alleged that Sanusi had breached his copyright by copying his work without acknowledging him in two convocation lectures he (Sanusi) had given at the Igbinedion University, Okada, and Abubakar Tafawa Balewa University, Bauchi.
Commenting on these cases, a Lagos-based public affairs analyst said that since the matters are still in court, he would reserve his comments until rulings are given. He, however, sees what is happening as "a very positive and heartwarming development which would certainly trigger some reactions that would aid the process of sanitizing the nation's intellectual community. People would now be more careful. Prof Dike is pursuing these two cases, involving Sanusi and the two UNIPORT professors, because the materials he is alleging were copied from his work can be accessed on the internet; you can then imagine what happens with the countless books that university teachers and many other people are churning out each day, and at every corner of Nigeria for our children and the unsuspecting public to read. It is a sad development. The media should keep these cases in the limelight; I am particularly interested in how they would be resolved. This is a healthy development, with far-reaching implications for the nation's educational system."
--------------------------------
http://ugowrite.blogspot.com/2012/06/alleged-plagiarism-dike-drags-two.html
www.ugowrite.blogspot.com