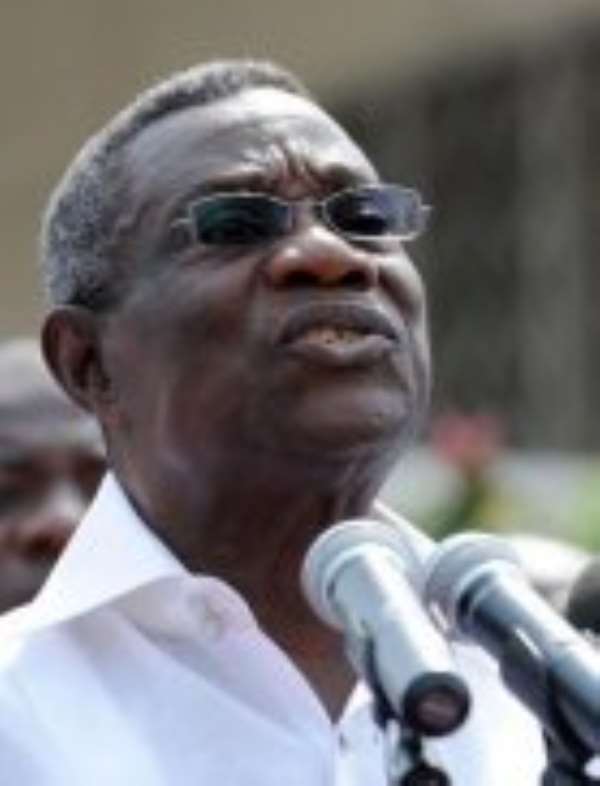 President J.E.A. Mills
President John Evans Atta Mills has restated the government's commitment to ensure that those who breach the peace and undermine the unity of the country are made to face the full rigours of the law.
He said the unity and peace of the country were so important that no single individual or groups should be allowed to disturb them, adding that, " no one is above the laws of the land."
President Mills gave the assurance when he called on Nana Ekuaku Kyiana Manu, Chief of Otuam in the Mfantsiman East Constituency of the Central Region, as part of his one-day working visit to that region.
The President used the occasion to tour some of the biometric registration centres in the region.
He said the security agencies in the country had been equipped sufficiently to deal ruthlessly with unscrupulous elements who wished to foment trouble and threaten the peace that the country currently enjoyed.
Reacting to the calls by the opposition leader, Nana Addo Dankwa Akufo Addo, on him to show practical commitment to his declaration for all political parties and their leaders to make election process fair and peaceful, President Mills said the powers conferred on him by the 1992 Constitution did not include arrest and prosecution of those who fell foul of the law.
"There are some of us who think the President should be directly enforcing the law. Unfortunately, I am not law enforcing officer and cannot be a prosecutor." he explained.
He said the security agencies had the responsibility, and were in position to perform their assignment and deal with any one who infringed the law.
The President, however, warned against acts and utterances that were likely to provoke people into taking the law into their own hands, underscoring the need for all to protect the integrity of the country.
President Mills said, "when I talk about the determination of the government to ensure, free, transparent, and peaceful, I say this with all sincerity."
Nana Manu, for his part, lauded the government for its developmental agenda, of which the area was a beneficiary.
He, however, asked for more development projects in the areas of road construction, provision of potable water and expansion of the landing site for fisherfolks.
He used the opportunity to extend invitation to the President to attend this year Akwambo Festival.
President Mills later toured the Post Office and Methodist Church registration centres and also paid a courtesy call on acting president of the Ekumfi Traditional Council, as well as the elders of Mankessim.