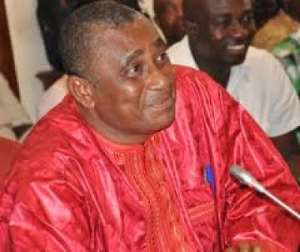 Denu, May 10, GNA - Mr Henry Ford Kamel, Volta Regional Minister has advised the people of the region to remain united despite their diversities.
"Never allow yourselves to be manipulated, else your survival would be at stake," he said.
Mr Kamel was addressing the ordinary meeting of the Ketu-South District Assembly at Denu on Wednesday.
He also toured more than 5,000 acre rice farms invaded by army worms at Afife and Klenomadi in the Ketu-North District.
Mr Kamel urged the people of the region not to compromise their unity for political reasons.
He commended the Assembly for hard work and urged its members to eschew partisan politics because of its potential to distract the Assembly from its developmental agenda.
He asked District Assemblies and stakeholders in the region to arrest the declining academic performance in the region to restore its quality human resource.
Mr Kamel observed that the government had done much for the region but that those achievements had not been talked about.
He said the region had large deposits of quality oil crude, salt, gold and tourism resources which could change the face of the region swiftly when developed.
GNA