Libyan premier wants US help on Kadhafi backers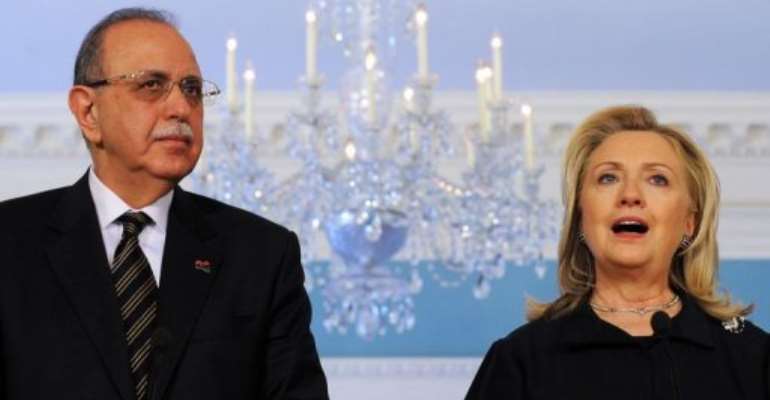 WASHINGTON (AFP) - Libya's interim Prime Minister Abdel Rahim al-Kib on Thursday appealed for US help to get the "remnants" of the Kadhafi regime and finally bring to an end what he called the "war of liberation."
Kib appeared to suggest he wanted members of the ousted regime of slain dictator Moamer Kadhafi handed over for justice.
But a senior US State Department official told reporters later that the Libyans are asking Washington to persuade countries harboring Kadhafi family members to prevent them from spouting rhetoric challenging the new government.
"One of the things we did request help with from Madame secretary was the remnants of the past regime," Kib said during a press conference with US Secretary of State Hillary Clinton after they met in Washington.
"They've been a nuisance and they've been causing problems and we need them back to give them proper justice... And we also need the funds they have stolen from the Libyan people to come back to the Libyan people."
Saadi Kadhafi, one of Kadhafi's sons, told Al-Arabiya television from Niger last month that a nationwide rebellion is brewing against the country's new rulers as he vowed to return to his homeland.
Kadhafi's daughter Aisha angered her Algerian hosts in November when she called for the overthrow of Libya's interim government.
"After we get those remnants of the past regime, it will be over," Kib said, referring to what he called "the war of liberation."
He said the US private sector can help rebuild the country while he promised to continue the country's transition to democracy.
"The Libyan government is fully committed to holding free, fair and transparent elections in June, and we look for continued support from the US and our partners in that area," the prime minister said.
Clinton praised the progress made by the interim rulers who replaced Kadhafi after he was overthrown in August following a six-month armed rebellion that left thousands dead and ended 42 years of iron-fisted rule.
"In the last four months, the prime minister and this interim government have provided essential and effective leadership, and they've begun the hard work of putting Libya back together," she said.
"We've seen progress in each of the three key areas of democratic society: building an accountable, effective government, promoting a strong private sector and developing a vibrant civil society."
The US official, speaking on the condition of anonymity, was hard pressed to say whether Kadhafi supporters posed "an imminent danger," but he acknowledged that the country's borders were not completely sealed to people and weapons.
"I think the tide of public opinion certainly doesn't support them (the regime remnants). I think they can be troublesome to the current situation," he added.
"But I don't think that anybody in the government feels that they're in danger of a trying to establish a counter coup of some kind, as advocated by Saadi Kadhafi."
Kib and US officials meanwhile played down concerns that Libya would split into western and eastern halves.
On Tuesday, tribal and political leaders in Benghazi declared the eastern oil-rich region of Cyrenaica as autonomous but recognized the ruling National Transitional Council as Libya's legitimate representative in foreign affairs.
"I can tell you this is democracy in practice, and it is simply that," Kib said, issuing a softer response than that of Libyan leader Mustafa Abdel Jalil, who said on Wednesday that he would defend national unity with force if necessary.
The senior State Department official said that while the move is a matter of concern, it also appears that eastern Libyans who chafed at the centralization of power in Tripoli under Kadhafi "want to make sure their voice is heard."