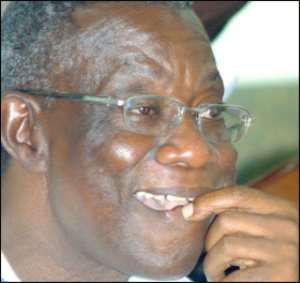 As a former commercial attaché, I have been around long enough to know the machinations of some former PNDC henchmen who like chameleons, changed into NDC and are responsible for the current rate of criminality and corruption in the country. The fraudulent millions of Ghana cedis judgement debts paid to Alfred Agbesi Woyome and the 90 million Euros paid to Construction Pioneers, shows that President Mills, with the support of corrupt ministers supervised a grand scheme to defraud the people of Ghana ,using our state institutions involving judges, civil servants ,party officials to fleece the people of Ghana to satisfy their greedy and devilish cravings for money.
President Mills cannot absolve himself from these payments. In fact he told blatant lies to the people of Ghana. In an interview on Radio Gold, he told the people of Ghana that he did not know of payments to Mr Woyome . He also told Ghanaians he would not be criminally minded to give state funds to individuals who did not deserve them.
The facts show that President Mills is deeply involved in these scandals and actually received payments from these judgement debts. I make this statement due to certain events that have occurred since he came into office.
1. The Chronicle newspaper published information that President Mills Purchased 24,000 hectares of land in the Gushegu Karaga District. Till Date he has not told Ghanaians how he came by these lands
2. President Mills has also purchased a house at Regimanuel Estates and is also building a house in his hometown in the Central Region. The estimated cost is
3. President Mills, according to Herbert Mensah a member of the NDC, spent 90 million Ghana cedis ,the highest amount of money ever used for a presidential primary campaign !
4. The chief of staff, John Henry Martey Newman, has received copies of the letter which authorised payments to Woyome and Construction Pioneers. Can ministers have the courage to authorise payments of state money to individuals and organisations without the Presidency scrutinising and doing due diligence? What is even the point of having the likes of Dr Tony Aidoo as head of monitoring and policy evaluation if he cannot even monitor what is happening at the Presidency and government departments? This same Dr Tony Aidoo, who as Depty Minister for defence, sqandered over 15 million dollars on bogus defence contracts that never saw the light of day and rather sed some of these mobies to buy chandeliers for his hose at East Legon, champagne socialism at its best!
I believe that unseen hands and dark forces are ruling this country and not President Mills. You only have to scrutinise some of his decisions and actions which show decisions are being made by others and forced on him. Is Dela Cofie, the editor of the True Statesman, right when he wrote in his article, "Ato Ahwoi, Ghana's Vladimir Montesinos" that there is a secret cabal running Ghana?
The efforts at trying to protect Mills from falling from grace by using diversionary tactics such as imprisoning woyome and resurrecting the MV Benjamin cocaine case are pathetic. How can there be a fair trial when Kwabena Amaning alias Tagor and Alhaji Abass were set free because they secretly contributed to President Mills's campaign in 2008 in exchange for their freedom? As we speak, Nana Ama Martin, whose testimony woud have implicated government officials in the cocaine Baking Soda case has been allowed, with the help of corrupt BNI officials to flee to cote d' ivoire and is currently living under diplomatic immunity with a diplomatic passport secured for her in neighbouring cote d' ivoire.
I am therefore calling on President Mills to do the honourable thing and stand aside as he is a party to all the fraudulent activity going on. Former President Jerry Rawlings alerted Ghanaians to these crimes, but no one listened and we are all paying the price for severe incompetence.
Patrick Jojo Mercer
Former Commercial Attache
Ghana Embassy
Australia
[email protected]