Campaign group pulls out of 'failing' blood diamonds scheme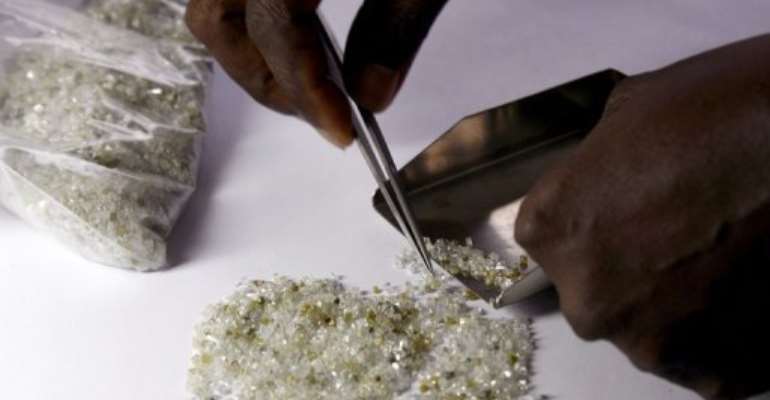 LONDON (AFP) - A campaign group which helped found the Kimberley Process to stop the trade in so-called blood diamonds announced on Monday it was pulling out of the scheme, saying it had failed.
Global Witness, which helped set up the voluntary certification scheme in 2003 to cut the links between diamonds and conflict, said a recent decision to allow Zimbabwe to sell gems tainted by army killings was the final straw.
"The decision to endorse unlimited diamond exports from named companies in the Marange region of Zimbabwe -- the scene of mass killings by the national army -- has turned an international conflict prevention mechanism into a cynical corporate accreditation scheme," said founding director Charmian Gooch.
The World Diamond Council, which represents the industry, expressed regret at Global Witness's decision, insisting that while the Kimberley Process was sometimes slow, "it is effective and does have teeth".
Kimberley approval was meant to guarantee that stones often given as a symbol of love were not used to fund some of Africa's most brutal civil wars, such as in Sierra Leone and Liberia.
For the past eight years, the scheme has gathered governments, industry and activists into a global regulator that makes decisions by consensus.
But Global Witness and a number of other groups walked out of a Kimberley meeting in June after the chairman gave the green light to two companies to sell diamonds from the Marange fields.
In a statement on Monday, Gooch said: "We now have to recognise that this scheme, begun with so many good intentions, has done much that is useful but ultimately has failed to deliver."
He added: "The sad truth is that most consumers still cannot be sure where their diamonds come from, nor whether they are financing armed violence or abusive regimes."
Global Witness said the process failed in three key areas: in dealing with the trade in conflict diamonds from Ivory Coast; in managing what it alleged were "blatant breaches" of the rules by Venezuela; and in failing to stop diamonds fuel corruption and violence in Zimbabwe.
"It has become an accomplice to diamond laundering, whereby the dirty diamonds are mixed in with clean gems," the non-governmental organisation (NGO) said.
Gooch said its failure proved that such voluntary schemes could not work when companies and countries competed for mineral resources, and urged governments to put Kimberley's standards into law.
However, the World Diamond Council said that on Zimbabwe, the Kimberley Process agreed last month to allow exports only from those Marange operations that demonstrated compliance.
It also noted that Ivory Coast and Venezuela were both suspended from the scheme while efforts were made to try and improve their controls.
"The overriding goal of the Kimberley Process Certification Scheme has been to protect the integrity of the diamond, so that it properly contributes to bettering the lives of ordinary people living in the areas in which it is mined and processed," said WDC president Eli Izhakoff.
"The system is not perfect, and is in need of constant review. However, you cannot contribute to the process if you are no longer engaged."
More than 75 of the world's diamond producing, trading and manufacturing countries participate in the Kimberley Process, which requires member states to pass national legislation and set up export and import controls for diamonds.
Global Witness has written to the chairman of the process announcing its withdrawal as an official observer, although it said it would still work with other NGOs to reform the sector.