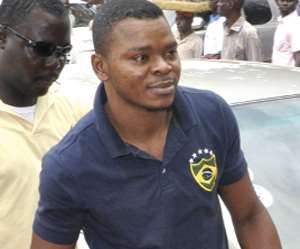 HOT! Bishop Daniel Obinim under pressure
Metro TV's 'Good Morning Ghana' show host Randy Abbey, has urged management of the station to sack Bishop Daniel Obinim from the station by paying him off in order to distance the station from his disgraceful act.
According to Mr. Abbey, the station's continuous association with the bishop by broadcasting his programmes is embarrassing after the recent scandalous exposé of his amorous relationship with the wife of a junior pastor.
Obinim, head pastor and founder of the International God's Way Church headquartered in Kumasi, was on Monday arrested by the police for allegedly vandalizing property and attacking some staff of Hot FM, an Accra-based private radio station for discussing his extramarital affairs with his former assistant pastor's wife, Gift Pokua.
Bishop Obinim is currently on a GH¢50,000 bail after appearing in court on charges of conspiracy, causing unlawful harm, and causing unlawful damage to property on Tuesday.
Speaking on Peace FM's morning show yesterday, Mr. Abbey suggested that though Metro TV is a commercial entity, it would be in the station and most Ghanaians' interest if it did not allow Obinim to use the television station to advance his ungodly activities.
The embattled man of God has a regular slot on Metro TV. Indeed, on the day he was sent to court, he was seen preaching on that television network.
'I have seen him preach on Metro TV and it is shameful for the TV station to continue airing his programme. So if there's any amount due him, the station should simply make the necessary payment and kick him off…Money is driving the media to give platform to some of these things that are being perpetrated by some of our so called men of God. They even go to the extent of fighting for broadcast time…offer monetary inducements just so a colleague pastor can be yanked off…for them to be given that spot,' he stated.
He also censured media houses in the country who for the sake of 'dirty money', offered these 'charlatans' the opportunity to parade their screens just to popularize their activities.
Gifty Pokua, the woman at the centre of the controversial sex scandal, had said that Obinim cast a spell on her, hence his ability to seduce and repeatedly sleep with her.
Gifty, wife of William Fobih, a former junior pastor to Bishop Obinim, says the whole incident of her sexual escapade with the man of God still seems like a dream to her.
According to her, she followed Obinim like a dog, responding to his every call. Pastor Fobih said he was not surprised that Obinim openly admitted he was behind the misfortune that had befallen his one-and-a-half-year-old daughter who cannot walk and has some neurological disorder.