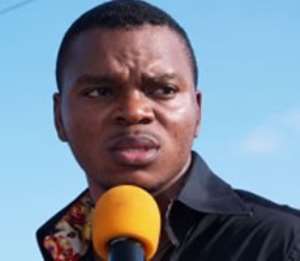 Bishop Daniel Obinim
Only Rawlings beats Obinim The embattled Founder and Leader of God's Way International Ministries, Bishop Daniel Obinim, who has been embroiled in controversies spanning adultery, assault and cursing a toddler, now claims he is the most popular person in Ghana, second only to former President Jerry Rawlings.
Bishop Obinim made the claim at a filled to capacity Tema Community 9 branch of his church Tuesday, with worshippers praying fervently for God's deliverance of their leader.
The preacher, who for about three weeks has been in the media spotlight for all the wrong reasons, had gone mum since admitting to committing adultery with the wife of a former Associate pastor of his church and claiming to have cursed the almost three-year old child of the couple ostensibly to punish the mother who wanted to disgrace him (Obinim) by making their affair public.
It doesn't end there as he was arrested and processed for court for allegedly assaulting a presenter at Accra-based Hot FM while the presenter was on-air discussing the bishop's alleged infidelities; he is also alleged to have vandalized property belonging to the station.
Delivering his sermon, Bishop Obinim said like former President Rawlings, he is being crucified by the media.
Bishop Obinim asked his congregation to pray against 'demonic attacks' on other men of God as well.
"They say my case is the most popular matter ever in this country, therefore let us pray against those who are influencing this issue negatively," he preached.
Adom News' reporter, Abednego Akwasi Asante said the Bishop looked good in a white shirt over khaki trousers and black tie. His shoes were black and glittery.
The congregation agreed their leader was being persecuted.
Meanwhile, the Hot FM presenter, Kwame Ntim Katakyie, who was alleged to have been assaulted by Bishop Obinim, has exppressed fear of losing the whole of his left hand as he says doctors treating him at the 37 Military Hospital are uncertain of the future of his dislocated shoulder.
Ntim carries his hand in a sling to avert further harm.
He said neither Bishop Obinim nor his representative had visited or called to check up on him and insisted that he will pursue the matter in court to ensure that justice is served.

Story by Afia Pokua/Abednego Akwasi Asante/Adom News/Ghana