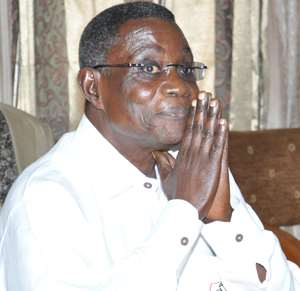 Some claim he is humble, honest, firm, has integrity and God-fearing but his political opponents describe him as a hypocrite, vindictive, unforgiving, ungrateful and indecisive.
In whatever light he appears to you, Professor John Evans Fiifi Atta Mills after two failed attempts (2000 and 2004) succeeded in becoming President of the Republic of Ghana when he defeated Nana Addo Dankwa Akufo-Addo of the New Patriotic Party in the slimmest margin in 2008 after a pulsating electoral duel that went to three rounds.
President Atta Mills served as Vice-President to Jerry John Rawlings, founder of the ruling National Democratic Congress (NDC) between 1997 and January 2001 and had previously caused a stir by saying that if elected, he would consult his former boss 24/7 on all fronts, perhaps a promise which has caused him support from his political mentor, Mr. Rawlings. Instead of consulting him 24 hours a day, President Mills, according to his mentor has surrounded himself with greedy bastards.
Then President Rawlings had handpicked Professor Mills from political obscurity and made him his vice president leading to some disgruntled elements in the party to part ways and formed their own party, National Reform Party led by Goosie Tanoh.
Some observers say his sidelining of the former military dictator and founder of NDC after becoming President is the highest mark of ingratitude, perhaps ever recorded in political history across the world.
Ideologically, he describes himself as an Nkrumaist who leans broadly on Osagyefo Dr. Kwame Nkrumah's idea of social welfare.
Childhood
President Mills was born on July 21, 1944, at Tarkwa in the Western Region and hails from Ekumfi Otuam in the Mfantseman District of the Central Region. He started his secondary education at Achimota School, Accra for his General Certificate of Education (GCE) in 1961 and Advanced Level in 1963 before proceeding to the University of Ghana, Legon, where he received a bachelor's degree and professional certificate in Law (1967).
While pursuing a PhD in Law from the prestigious School of Oriental and African Studies (SOAS) in London, the Prof. as he is affectionately called was selected as a Fulbright Scholar at Stanford Law School in the United States. He earned his PhD at age 27 in taxation and economic development.
Career As A Lecturer
President Mills' first formal teaching assignment was at the Faculty of Law at the University of Ghana, Legon. He spent close to 25 years teaching at Legon and other institutions of higher learning, and rose in position from lecturer to senior lecturer and eventually became associate professor, and served on numerous boards and committees. Additionally, he traveled worldwide as a visiting lecturer and professor at educational institutions such as the LSE, and presented research papers at symposiums and conferences.
He became a visiting professor of Temple Law School (Philadelphia, USA), with two stints from 1978 to 1979, and 1986 to 1987, and was a visiting professor at Leiden University (Holland) from 1985 to 1986. During this period, he authored several publications relating to taxation in the 1970s and 1980s.
IRS Career
Outside of his academic pursuits, Professor Mills was the Acting Commissioner of the Internal Revenue Service from 1986 to 1993, and the substantive Commissioner from 1993 to 1996. By 1992 he had become an Associate Professor of Law at the University of Ghana.
Seeking the highest office in Ghana
Those who are close to him say he is man of high integrity, humble, a liberal minded and the word peace is his watch-word. His supporters branded him Asomdweehene which literally means the "King of Peace". John Evans Atta Mills is the only person who has run for President on the ticket of the National Democratic Congress (NDC) for three consecutive times in the history of the party before winning on his third attempt. He will also go into history as the only sitting president who is being challenged for re-election.
He insists that he has no regrets in appointing young people to serve in his government after his critics described some of the government's appointees as 'Greedy Bastards', 'Team B', 'Mediocre', 'Bootlickers', 'Standard Seven Boys' among others.
Advertisement
President Mills has always promised not to indulge in mudslinging insults and character assassination and says he will follow the rules in getting the delegates to endorse him for a second term but he is unable to tame his supporters.
He is very confident he will emerge victorious at the Sunyani congress and remarked recently 'this election we are going to have in Sunyani I have already won it so why do I go for GH ¢90million for my campaign,' in reaction to Herbert Mensah's allegation that the President's campaign team Get Atta Mills Endorsed (GAME) intended to use the staggering amount for his re-election campaign.
Personal Life
He is married to Ernestina Naadu Mills, a Director of Education and trained marriage counselor. He has a son, Sam Kofi Atta Mills with his former mistress Madam Ruby Addo. It is claimed he was a smoker but is said to have quit the habit. He claims to be a devout Christian and does not equivocate in letting the world know. He is a good friend to Prophet T. B. Joshua of The Synagogue Church Of All Nations http://en.wikipedia.org/wiki/T._B._Joshua (SCOAN) in Lagos, Nigeria and regularly visits his temple. http://en.wikipedia.org/w/index.php?title=The_Synagogue,_Church_Of_All_Nations&action=edit&redlink=1
He is enthusiastic about sports. He has contributed to the Ghana Hockey Association , National Sports Council Ghana http://en.wikipedia.org/w/index.php?title=National_Sports_Council_of_Ghana&action=edit&redlink=1 , and Accra Hearts of Oak Sporting Club http://en.wikipedia.org/wiki/Accra_Hearts_of_Oak_Sporting_Club . He enjoyed hockey http://en.wikipedia.org/wiki/Field_hockey and swimming http://en.wikipedia.org/w/index.php?title=Ghana_Hockey_Association&action=edit&redlink=1 , and once played for the national hockey team. http://en.wikipedia.org/wiki/Swimming_%28sport%29
The former Vice President Mills after the NDC's defeat in 2000 had stints in Canada as a visiting Professor before returning to Ghana to contest the then President JA Kufuor on the ticket of the NDC in the 2004 Presidential poll.
Publications
President Mills has several publications to his credit. They include Taxation of Periodical or Deferred Payments arising from the Sale of Fixed Capital (1974), Exemption of Dividends from Income taxation: A critical Appraisal (1977) In: Review of Ghana Law, 1997, 9: 1, p. 38-47, Report of the Tax Review Commission, Ghana, parts 1-3 (1977), Ghana's Income Tax laws and the Investor. (An inter-faculty lecture published by the University of Ghana), Ghana's new investment code: an appraisal (1993) In: University of Ghana Law Journal, 1993, vol. 18, p. 1-29.
Mills' Critics
President Mills' attempt to seek re-election is facing stiff opposition from former First Lady Nana Konadu Agyemang Rawlings, wife of Ex-President Jerry John Rawlings who contesting him for the Presidency.
He has incumbency to his advantage. He has promised a 'Better Ghana' and strongly believes that with time Ghanaians would benefit from the good policies that his government is vigorously pursuing. His opponents though are discrediting him for being 'too slow.'
Criticisms naturally reserved for the opposition has come from within his own party and it is seen as 'no confidence' vote in President Mills, hence he being challenged.
For instance, his 'political mentor' Ex-President Rawlings, who is also the founder of the NDC has time and again appealed to NDC delegates to change President Mills or risk losing the 2012 general elections because he is a bad driver.
Mr. Rawlings believed the NDC started losing the 2012 general elections and power within the very first week the party returned to power because of the actions and inactions of President Mills and members of his administration since surveys had indicated that the government was unpopular.
'We finally lost 2012 eight months back. So until we change the gear and the driver, and I say this without malice and any disrespect to the Prof., but I guess we all have our limitations… The time has come when the change must take place to enable us rescue this country," Rawlings said.
He predicts Mills might win in Sunyani but cannot retain power in 2012.
By William Yaw Owusu