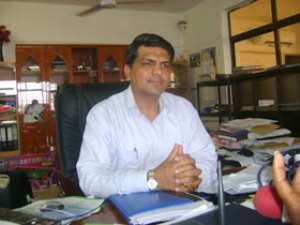 The Delhi Public School (DPS), an international school with over 100 branches worldwide, has now been opened at Tema Community 25 to serve children of school-going age with international education standards and the feel of diverse cultures.
The school, which is under the construction by Sharpoorji  Pallonji & Co. Limited, has already started operations, although it would officially be opened next year to change the face of education in the country, by emphasising more on the scientific approach to teaching and learning.
According to the Managing Director of B5 Plus Limited, promoters and facilitators of Delhi Public School, Mukesh Thakwani, the multimillion dollar school, after completion, would have 20 classrooms alongside an international standard library, multipurpose sports hall, science laboratory, arts and craft centre, recreational centre, and other child interest activities.
'DPS, Ghana, would be the reference point in education in West Africa in the next two to three years, we don't only focus on the academics, but ensure that our students come out from school as all-rounders,' he said in an interview.
He said his high level of optimism stems from successes chalked by the 100 branches over the years to bring transformation in childhood development through education. The Managing Director stated that the school had been certified by Cambridge, and registered with the Ghana Education Service (GES).
DPS offers courses like CBSE International (India) and IGCSE, Cambridge and British Curriculum and A Level, as well as English, French, Hindi and Arabic.
He stated that the school had made provision for students after completion to have the opportunity to be admitted into more than 3,000 universities in India at subsidised fees.
Last Saturday, parents and guardians and some invited guests trooped to the school to witness a spectacular performance by the pupils.
The Saturday concert was a night to remember for parents, predominantly Indians, as close to 50 children performed various cultures and choreography performances, singing and dancing to Twi, French, Arabic and English songs.
The Principal of the DPS, Chandras Hekhara, thanked the parents for reposing confidence in them by entrusting their children into their care, saying, 'We value the trust and confidence reposed in us by parents of the school by handing over their wards to us.'
'The Curriculum Vitae offered at the levels in the schools is flexible, and enables the new trends in education to take root in the existing system, this helps in keeping pace with the capacity changes in the educational system,' he added.
To grace the occasion was the Indian High Commission to Ghana, H.E. Madam Ruchi Ghanashyam , who commended the authorities of the school for the initiative, and advised them to strive for excellence.
Also thrilled by the brilliance performance of the kids, the Deputy Minister of Trade and Industry, Mr. Mahama Ayariga, stated 'What the kids have demonstrated is the way forward -exhibiting four languages through cultural displays.'