VOLTA YOUTH LEAGUE THROWS ITS WEIGHT BEHIND THE PRESIDENT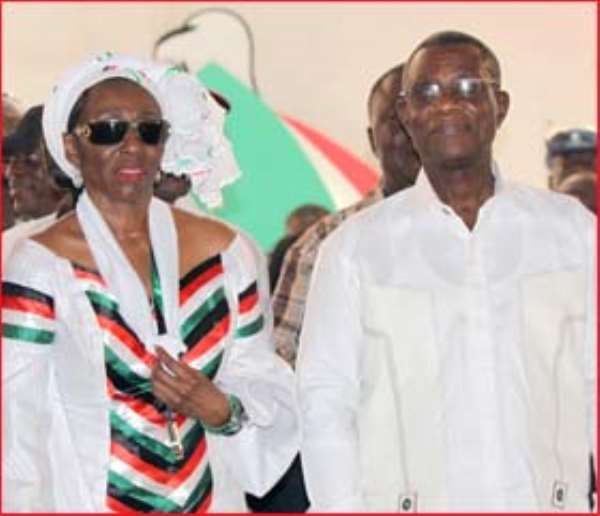 The Volta Youth League has observed with keen interest, the recent developments in the NDC that sought to question the performance of H.E. John Evans Atta Mills during his short tenure of office and his ability to lead the party to victory come 2012.
To the keen observer, the achievements of the President over the past two years in the field of health, education, agriculture, roads, energy etc cannot be over-emphasized.
In the field of education, the President has cut the sod for the commencement of work on two public universities in the Volta and Brong-Ahafo Regions, schools under trees are almost virtually eliminated, construction of facilities to absorb students into the SHS system in the form of dormitories, dining halls, assembly halls and classroom across the country are there for all to see and appreciate if they so want to. The shift system which used to be the bane of public first cycle institutions in the Accra metropolis is now a thing of the past.
The provision of health facilities across the length and breadth of the country in the form of hospitals, polyclinics, clinics and health training institutions are all ample testimonies to the 'Better Ghana' agenda.
The road infrastructure in the country is under-going a massive over-haul as is evidenced by the construction of road networks in the urban and rural areas to open up the hinterland for farmers to have access to marketing centres. The food situation has been stabilized through various interventions by the government which is yielding fruitful results. We cannot begin to talk about the growth of the economy, the stabilization of the cedi and its attendant positive effects on the economy.
Communities which are yet to be connected to the national grid since independence are gradually but progressively being hooked into the national grid. We need stability and continuity to complete this agenda.
The livelihood Empowerment against Poverty (LEAP) and other social interventions are being extended to many more communities across the country
In view of the above and a host of others too numerous to state, we, the entire membership of the VOLTA YOUTH LEAGUE wish to re-emphasize our faith and confidence and call on all delegates in the upcoming congress and Ghanaians in general to give the mandate to His Excellency Prof. John Evans Atta Mills and his NDC government as the best team to retain the seat and lead the party to victory in 2012.
We all know that President Mills has already been marketed over the years. He has been battle-tested coming from behind in the first round of the 2008 election to beat Nana Akuffo Addo the candidate of the NPP even with their rigging. We believe that tactically, it would be imprudent for the ruling NDC government to endorse a new presidential candidate the year before the 2012 elections.
GOD BLESS OUR HOMELAND GHANA, ARISE ARISE NDC.
Del Nyamador
National Coordinator
0543015036