More Trouble For Se Menhyia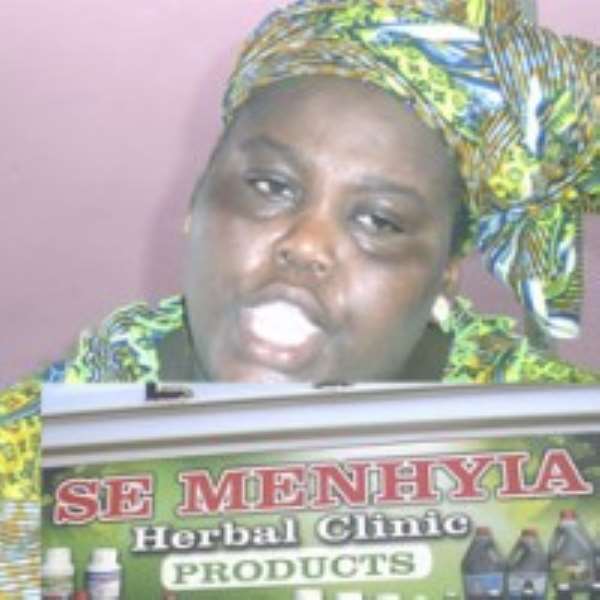 •Maame Se Menhyia and her produts
The 45-year-old Kasoa-based herbalist, Maame Adjoa Se Menhyia, failed to meet a bail bond slapped on her by an Accra Circuit Court as at press time yesterday, after her arrest on Thursday.
Following this development, Maame Se Menhyia might spend another night in the cells of the Criminal Investigations Department (CID) Headquarters in Accra until the bail terms are met.
She was granted a GH¢30,000 bail with two sureties to be justified. She was also bonded to stop dispensing the seven banned herbal medicines or in default face a year imprisonment in hard labour.
The herbalist was arrested on Thursday January 27, 2011 after she failed to honour several invitations by the Food and Drugs Board (FDB) over her unwholesome and unlicensed herbal products.
She was arrested by the police in her home and brought to the CID Headquarters at about 7:00pm.
She was charged on four counts of selling a drug without authorization, advertising a drug without authorization, preparing a drug under unhygienic conditions and manufacturing a drug without authorization.
She pleaded not guilty to all the charges.
The prosecutor, Inspector Aboi, had asked the court to remand her.
The presiding judge, Adwoa Coleman, cautioned the accused not to distribute, sell or advertize any of her herbal products not approved by the Food and Drugs Board.
She is to re-appear in court on Friday, February 25.
The CID Public Relations Officer, J.B Darkwah, debunked earlier allegations by counsel for the accused that Maame Se Manhyia was arrested and detained based on 'orders from above.'
Mr. Darkwah said the FDB, on Thursday, sought the assistance of police to arrest the herbalist after she failed to honour invitations from the board.
The herbalist had, on Monday January 24, 2011, made wild allegations that the Se Menhyia Herbal Clinic had been the target of the FDB because she turned down sexual advances from the FDB boss.
However, the FDB boss, Dr. Stephen Opuni, vehemently denied the allegation, stressing that her actions would not stop him from carrying out his mandate, adding that she would have to substantiate her allegations in court.
By Rocklyn Antonio