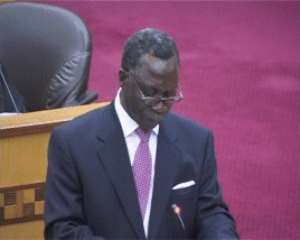 THE PARLIAMENTARY Press Corps were yesterday driven into a state of wonderment when the Majority and the Minority at different fora briefed them separately on the state of the economy.
Whereas Hon. Yaw Osafo Maafo, Minister of Finance, claims that the economy is on track, the Minority, led by their Spokesman on Finance, Hon. Moses Asaga, maintained that the economy is off track.
Hon. Osafo Maafo took the floor of the House to give a review of the economic performance of the country, based on the budget statement and economic policy of the Government of Ghana, for 2002 financial year.
Immediately after his briefing, the Minority also called a press conference and tore apart all that had been proclaimed by the Finance Minister.
In his delivery, Hon. Yaw Osafo Maafo told the House that the management of the economy from January to July 2002, has been confronted with several challenges.
This, he noted, included higher than expected payments of wages and salaries, especially for teachers and doctors.
He said there had been acceleration in the payments of arrears incurred in previous years to suppliers of goods and services, including road contractors and the Social Security and National Insurance Trust (SSNIT).
The minister disclosed that there had been higher than programmed subsidies to utility companies, including Volta River Authority (VRA) and a substantial shortfall in foreign in-flows.
Also, he claimed further that there had been lower than expected divestiture receipts and external shocks resulting from higher world prices of crude oil.
This statement compelled the Minority to shout in disagreement.
Hon. Osafo Maafo, however, stated that in spite of all these challenges, government had been able to, through the use of appropriate fiscal and monetary policies, maintain the macro-economic stability achieved last year, at a great political cost.
He explained that against the backdrop of these potentially costly developments, overall total domestic expenditures from January to July 2002, were only slightly above target (0.6 per cent of Gross Domestic Product (GDP).
The minister indicated that domestic revenue generation has, however, been quite robust, exceeding the programme targets by 1.3 per cent GDP.
On his part, Hon. Moses Asaga, did not only debunk the minister's claim, but also referred to the economy as fragile.
He said there were serious micro-economic distortions in the ministers' presentations, which made it difficult for one to determine what category the Mid-year budget review, belonged.
The Minority Spokesman on Finance maintained that the cedi had depreciated against the pound sterling by 33 per cent and the dollar by 15 per cent.
He alleged that though inflation is reported to have been reduced from 27 per cent to between 12 and 13 per cent, in fact, inflation is very high.
According to him, the average inflation is 30 per cent, whilst interest rate is 26 per cent with the bank rate at 35 per cent.
He maintained that the prices of milk, sugar, bread, ice- cream, yoghourt and most essential goods have increased. Hon. Asaga said that though government revenue exceeded its target by ¢600 billion, VAT performed poorly.
Hon. Asaga averred that unemployment had risen, prices of utility services had gone sky-high, thereby increasing the suffering of Ghanaians, while government had over-borrowed to the tune of about ¢2 billion in only two years as compared to NDC's ¢900 billion.
Hon. Asaga said government had stifled the economy, thereby making nonsense of the Golden Age of Business, just as the IFC loan, which has now become still-born.
He contended that government had deceived the International Monetary Fund (IMF) and World Bank about internal borrowing, thus losing trust to these bodies.
According to him, the government has to re-organise itself before it can win back trust from the world financial bodies.