John Mahama condemns foot soldiers' violence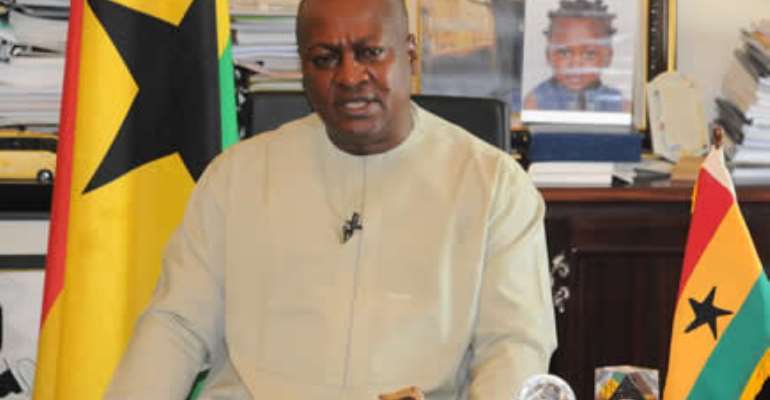 The Vice president John Dramani Mahama has expressed worry about the recent violence demands of party foot soldiers.

According to him, the approach by the foot-soldiers should be a matter of concern to every Ghanaian.
John Mahama, who said this at the launch of a non-governmental organization Centre for Freedom and Accuracy in Accra, said the recent seizure and closure of government buildings and offices is a canker that must be of concern to all political parties.
"This is a canker that plaques all political parties and as one we must think of a solution to this problem. In my mind a foot soldier or a cadre of an idea or a party or an organization is one that is prepared to sacrifice for the organization in order to keep the fortunes of the organization…," he said.
"Now the kind of foot soldiers we have in Ghana are different. They will work during the campaign and help you to get into power but once the party gets into power they must be served first; no sense of sacrifice. So the question is: Who is a foot soldier and what is the definition of a foot soldier?" Mr Mahama asked.
Mr Mahama said the attitude of foot soldiers asking for heads of government institutions to be replaced by members of the ruling party can be dangerous as a change in government will mean a change of such new appointees.
"Invariably, every four years government could change and what will we be doing to our institutional growth if every four years we sack our managers and everybody and recruit new ones belonging to a certain political party and then the next four years government changes and we sack everybody and we bring in new ones belonging to a party. There is no way any country can grow in an environment like this," he indicated.
Violent protests
The assumption of the NDC to power has come with it a new breed of violent sympathizers who will ignore diplomatic alternatives and adopt the most radical means of achieving their own ends.
The party's supporters in Yendi recently called for the dismissal of their DCE whilst others in Bawku in a fit of rage brutalized journalists who were there to cover an event by the MCE.
The violence has not been limited to northern Ghana alone but also in Accra where NDC foot soldiers locked up the national offices of the party and demanded that President Mills dismissed the former Chairman of the Confiscated Assets Allocation Committee, Carl Wilson.
There was also a clash between supporters of the NDC and the opposition New Patriotic Party during a court hearing of a case in which an NPP supporter, Nana Darkwa was being tried for spreading false information to cause fear and alarm.
The developments have attracted a lot of condemnation from both the NPP and the NDC and with the recent history it is not known where next another violent protest by foot soldiers will strike.
Play the attached audio for excerpts of the statements
Story by Fiifi Koomson/Myjoyonline.com/Ghana