Government To Return Kumasi Lands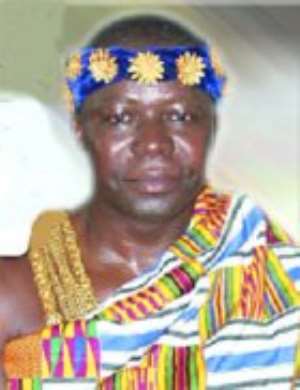 Otumfuo Osei Tutu II - Asantehene
The government has initiated moves to return to the Asantehene all Part One lands in Kumasi,which have been under the administration of the government since 1958.
The Minister of Lands and Natural Resources, Alhaji Collins Dauda, who disclosed this at the inauguration of the Ashanti Regional Lands Commission in Kumasi last Wednesday, said the reason behind the government take-over of the lands was nothing but political and that the present government believed it was time the Asantehene was given back what was due him legitimately.
Alhaji Dauda said the government was carrying out the necessary consultations and that as soon as they were completed, a bill on the return of the lands would be submitted to Parliament for consideration.
The lands are located at Adum, Asafo, Dadiesoaba, Fante New Town, Bantama and Ashanti New Town.
Under Section 5 of the Administration of Lands Act, 1962 (Act 123), the Part One lands located in the centre of Kumasi were vested in the President in trust for the Golden Stool.
Originally, it was the colonial government that took over the lands in 1902 but it returned them to the Golden Stool in 1943.
However, in 1958, the CPP government re-possessed the lands, alleging that the Asantehene was using proceeds from the sale of the lands to finance the then opposition party.
Even before the government does hand over the lands back to the Asantehene, the minister has directed that the management of the vested lands should be a collaboration between the Regional Lands Commission and the Golden Stool "as the vesting order did not extinguish the right of the stools".
"I call on the Lands Commission to immediately develop guidelines that will give effect to this directive," Alhaji Dauda said.
He further announced that it was the intention of the government to return all lands acquired by the state which were no longer needed to their original owners.
"This will be done on a case-by-case basis," he said, and added that in the Ashanti Region, an inventory of state-acquired lands had already been done in three districts, namely Atwima Nwabiagya, Sekyere West and Amansie East, stressing that the government would act on them appropriately.
He stressed the need for the removal of all bottlenecks in land administration if the nation wanted to see any meaningful progress in that sector.
The minister called for hard work from the regional Lands Commission to complement the efforts of the government in delivering on its mandate to the people and expressed the conviction that the commission would not fail in that regard, saying that the people expected stress-free process in registering lands.
The Chairman of the Regional Lands Commission, Prof. Agyemang Mensah, who is a consultant, said the members were honoured for their appointment and promised that they would work very hard to justify the confidence reposed in them.
Story : Kwame Asare Boadu