Police fire at S Africa rioters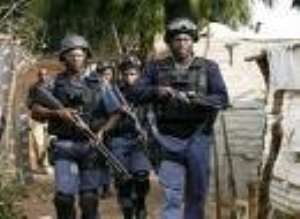 South African police have fired rubber bullets to disperse about 200 protesters at an informal settlement outside Johannesburg.
Residents barricaded a road with burning tyres during a protest against poor living conditions in the area.
The crowd stoned a local municipal office after realising it was closed due to the municipal workers' strike, which has entered its second day.
The protests and strike are seen as President Jacob Zuma's main challenges. Some township residents are angry that they do not have permanent housing, running water or electricity 15 years after the African National Congress came to power.
Police say most of the protesters in the Thokoza township were unemployed youths.
Cars have been prevented from driving through the area.
Meanwhile, a policeman was injured in the northern Mpumalanga Province when protesters went on the rampage in Simile township during a service delivery protest.
Police say residents burnt down a library and set fire to municipal vehicles including a fire engine.
"Police had to use rubber bullets to disperse the violent crowd. A police officer was seriously injured when a stone was thrown at him during their protest," Mpumalanga police spokesman Superintendent Abie Khoabane said, reports the South African Press Association.
There has been a spate of similar protests across the country in recent weeks.
Some 200 people have been arrested in demonstrations, which revived memories of the deadly xenophobic attacks on foreigners last year.
Mr Zuma has condemned the violent protests and attacks against foreign nationals.
"There can be no justification for violence, looting and destruction of property or attacks on foreign nationals residing in our country," he said.
He has promised to deliver better services, such as water and housing, in a bid to end the protests.
But his ability to increase spending has been cut since South Africa went into recession since he was inaugurated in May.