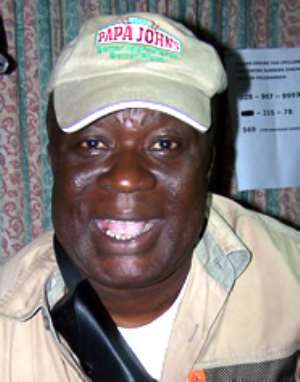 Kofi Wayo
He burst into the Ghanaian political scene in the 90s making a lot of noise which endeared him to some journalists and many Ghanaians. He asserted that he was for the ordinary guy on the street and spoke passionately about how he could turn the country around if given the chance. He suddenly became the anti-corruption crusader. He was raised from Nima therefore, he claimed to understand the street language and how to take a punch and deliver his own.
At a point it was rumoured that the NDC wanted to woo him until they found out that they cannot gag him much more stomach the kind of nonsense he was spewing around. The NDC found him as a political toxic and quietly left him alone.
Since what the guy was churning out was against the government of the day (NDC) and made a lot of political news, the NPP made a calculated political move and 'entrapped' the guy to their camp. He instantly became their daring boy who was paraded to Radio Stations to put the NDC government on its toes.
He spewed out garbage leaving many people dumbfounded. Ladies and gentlemen I am talking about no other person than the controversial unpredictable Kofi Wayo who has developed the penchant to say anything that comes into his stomach just to stay in the news cycle.
In the run-up for the 2000 elections Wayo kept the heat on the NDC so much so that even the ordinary man on the street concluded that if the NPP wins the elections Wayo was going to be rewarded big time by way of a cabinet position. It was no coincidence therefore when days after Kufour had been declared the winner of the 2000 elections; news started filtering in that Kofi Wayo was positioning himself to become the next Energy Minister. He was also rumoured to be making a pitch to buy the Tema Oil Refinery for peanuts to turn around the fortunes of the struggling company. Everything suddenly seemed to be going the way of Big Mouth Wayo. How wrong we were.
When President Kufour rele ased the list of his cabinet ministers, to the amazement of Ghanaians Wayo's name was conspicuously missing. People started asking whether Kufour had made a mistake by leaving the controversial Wayo out in the cold. But we were not mistaken. Unbeknown to many Ghanaians, Kufour also saw the same thing that the NDC saw, that Wayo can never be controlled if given a cabinet position hence Kufour's decision to dribble past him. Others rolled out some unofficial reasons that Wayo' CV was very thin with no solid educational background and wide-ranging experience in oil business, hence the decision by Kufour to leave him out.
But whatever it was Wayo did not receive any reward from the Kufour camp. This made him very bitter and he suddenly turned his stick against the NPP calling leading members of the NPP as fat cats who were feeding fat on Ghana . At Radio Stations Wayo was suddenly referring NPP guys including ex-president Kufour as thieves.
Wayo later formed his own party, the United Renaissance Party which did not catch fire so in order to avoid humiliation at the 2008 polls he quietly refused to pay the funds needed to contest the presidential and parliamentary elections. But Wayo just lined himself on the sidelines with continuous jabs at the NPP and its presidential candidate Nana Akufo-Addo. His usual refrain was calling the NPP people as Cats (Thieves).
Kofi Wayo who claimed to be a so-called energy expert and could help Ghana solve its energy crisis in just five minutes (Don't mind me I am making this one up), was rewarded by President Mills for his antics last week by being appointed to the Energy Commission Board.
Immediately I heard the announcement I said yes, finally President Mills wants to put Wayo to work. This was something that Kufour should have done to test whether Wayo was all what he claimed to be. But Wayo being Wayo would not even wait for the chairman of the board to call him as it is the norm to set up their first board meeting or familiarization tour of the ministry.
Kofi Wayo immediately jumped on the airwaves telling Citi FM that he would resign if the Energy Commission Board does not do the right things. He went on to say that he would not entertain any form of corruption and was not even consulted by the president before being appointed to the board.
After I listened to the interview on Citi FM I blurred out, "What at all does Kofi Wayo want?" A friend of mine replied that "Kofi Wayo should shut up, accept t he appointment and work on the board". I bought into what my friend said because Kofi Wayo is known by Ghanaians for all these years to be looking for an opportunity to serve Ghana, therefore, if President Mills has now given him something to do, this is the time for him to prove that he does not only do the talking but can also do the walking.
One thing Kofi Wayo should know is that there is no need for him to start issuing warnings when he does not even know the other members of the board. Ghanaians would be watching from far and near to see how well Kofi Wayo performs on the board. And Wayo should take this from me: If he goes to the board and does not excel but messes himself up, he would be toast and no Ghanaian would ever take him serious again. He would become a foot note.
I would therefore advice Wayo that if he does not know his stuff well on energy issues he should find someone to start schooling him because his Energy Board may turn out to be the board that would attract a lot of attention from Ghanaians going forward. Secondly he should know that issues concerning board meetings are not to be divulged on Radio Stations, therefore, if he disagrees on something with board members, he does not have to go to Radio Stations and lambast other members of the board.
I would end by saying that if there is any point in time that Ghanaians would be following Wayo with a critical eye this is the time. As a result, this would not be a good time for Wayo to continue to be the big mouthed guy. The time to work is now, therefore, roll up your sleeves, Mr. Wayo. I wish you good luck. Finally President Mills has decided to put Wayo to work. We live to see how he would perform.
By Ekua Kwansema

[email protected]