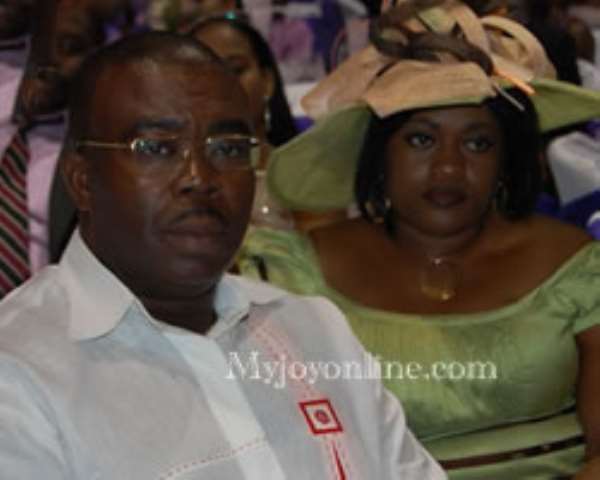 Mrs Zuleika Asamoah-Boateng, Wife of former Information Minister, Mr Stephen Asamoah-Boateng, is expected to report to the Bureau of National Investigations (BNI) Thursday after hours of grilling yesterday.
Even though Mr Stephen Asamoah-Boateng went with the wife, he left the offices of the Bureau on Wednesday night without being questioned.
Mr Asamoah-Boateng's voluntarily appeared at the BNI follows an attempt by officials of the BNI to arrest his wife earlier Wednesday, contrary to initial claim that he (Asamoah-Boateng) will not honour the BNI invitation without any formal letter.
The two reportedly entered the BNI compound in the company of their lawyers.
The couple, together with their two kids, was prevented from boarding a British Airways flight en route to America at the Kotoka International Airport on Sunday evening by operatives of the BNI under the pretext that the former minister was needed by the BNI for questioning on a contract he awarded to Plexiform Ventures while in office.
His former deputy, Frank Agyekum, and a worker of Plexiform Ventures, Yasmin Damuah, have already been questioned by BNI.
At the airport, Mrs Asamoah-Boateng is alleged to have engaged operatives of the BNI in a scuffle when they attempted to take custody of the passport of her husband.
Okudzeto Ablakwa, Deputy Information Minister, told Joy Newson Wednesday that Mrs Asamoah-Boateng "obstructed justice," and said her "unruly behaviour" was actionable.
Meanwhile, the main opposition New Patriotic Party (NPP) has officially ordered its members not to honour any invitation by the BNI until they are served written requests.
"Now if you get the telephone call, the person says I am calling from the BNI you are expected to report tomorrow at 1:00pm, don't go. Period!" NPP General Secretary Nana Ohene Ntow announced.
Story by Isaac Essel