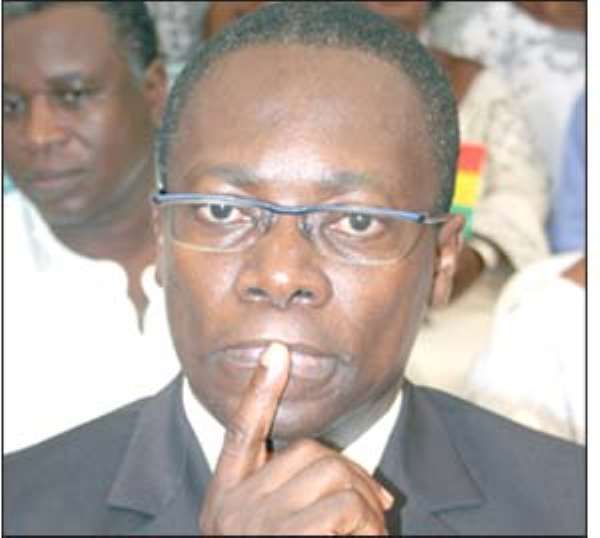 Dr. George Sipa Yankey, Minister of Health
The one-time payment under the National Health Insurance Scheme (NHIS), will become operational next year, says Dr. George Sipa Yankey, Minister of Health.
Inaugurating the National Health Insurance Authority (Council) in Accra yesterday, Dr Yankey said with the council in place, government was going to work hard to achieve the one-time premium goal.
Dr Yankey charged the council to work expeditiously to bring to fruition the government's plan of implementing a one-time premium policy to enable Ghanaians to have equal access to health care delivery.
The 17-member council, which has Mr Doe Adjaho, First Deputy Speaker of Parliament as chairman, is expected to review the NHIA Act (Act 650) within 10 days and present it to cabinet for consideration after which it will be forwarded to Parliament.
He said the Ministry was aware of fraud among some service providers and cautioned them to desist from such action or face possible prosecution.
Dr Yankey cautioned officials of the scheme at the district level to stop duplicating their positions at the national level which is making payment difficult.
The Minister urged the council to monitor the activities of the service providers to streamline and restructure the scheme for a sound and robust health delivery to all Ghanaians.
On behalf of his colleagues, Mr Adjaho, pledged that the health of Ghanaians would not be politicised by the council and government.
He assured the Ministry of the council's commitment to ensure quality healthcare delivery.
Members of the Council are Mr Sylvester Mensah, Chief Executive; Dr Benjamin Kumbuor, Deputy Minister of Health; Mr Kofi Asamo of TUC, Mrs Czarina Ribeiro representing the Pharmaceutical Society, Mr Samuel Akwei, the Ghana Bar Association, and Dr Elias Sory, Director-Genera of Ghana Health Service.
The rest are Mr Kwame Owusu-Bonso, Ministry of Local Government, Dr L.B.C. des Bordes, SSNIT; Dr J.K. Society of Private Medical and Dental Practitioners, Mrs Nyameke Kyiamah, National Insurance Commission; Dr Stephen Ayidia, and Mrs Edith Haizel, representing consumers, Dr Mercy Bannerman and Dr S.K.M. Ahiawordor both government appointees and Mr Obed Okudzeto representing the Mutual Health Insurance Scheme.