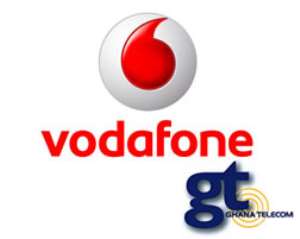 Management of Vodafone Ghana has began establishing community SIM phone booths in rural and peri-urban communities nation-wide under its "Access to Communications" programme, as part of its contribution to the development of local communities.
It has also installed many of those phone booths in several second-cycle schools to facilitate easy communication between students, their parents and guardians.
Mr David Venn, Chief Executive Officer of Vodafone Ghana, announced this during a courtesy call on Naba Martin Abilba III, Paramount Chief of Bolgatanga Traditional Area, in Bolgatanga.
He assumed office in Ghana in November 2008 and was in the Upper East Region on familiarisation tour to interact with staff of the company.
Mr Venn said Vodafone Ghana had undertaken investments in infrastructure and people to infuse greater efficiency into its operations and soon many parts of Northern Ghana, would testify to the exceptional quality of its operations.
"The excellence for which our company is famous worldwide would soon be available to all Ghanaians. Vodafone Ghana would increase the number of cell-phone towers installed in Upper East Region from nine to 12," he added.
Mr Venn said Vodafone Ghana had a special relationship with Northern Ghana because when no other network was prepared to operate in the North, it stepped forward and provided mobile communication services for the people.
"We intend to deepen this special relationship with the North by enhancing telecommunications through the laying of a fibre optic cable through some of the major cities of Northern Ghana," he said.
Mr Venn announced that Vodafone Ghana would soon establish a Foundation to support local communities as part of its social responsibility, and an initial investment of 200,000 pounds sterling or approximately 400 million Ghana Cedis, had been voted for it.
He presented a cheque for 3,000 Ghana cedis towards the Bolga-Naba's Education Endowment Fund to assist to champion the alleviation of poverty and improvement of the social and economic development in the area.
Naba Abilba expressed appreciation for the management of Vodafone Ghana for the generous gesture, and they would remain grateful to the company for demonstrating that it cared about their development.
He was optimistic about the company's success in the Region in view of the relative peace prevailing in the area and hoped other investors would take advantage of the area's peaceful environment and set up businesses.
GNA