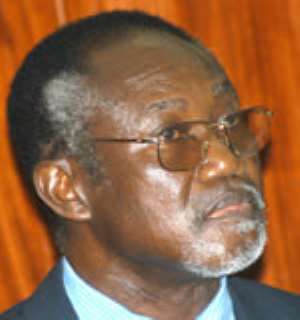 Dr. Obed Asamoah, former NDC Chairman was reported by Joy FM as saying that he does not regret leaving the party to form his bogus non-functioning party Democratic Freedom Party (DFP), which did not make any headway let alone any meaningful impact in the 2008 elections. Indeed when you hear people like Obed Asamoah who currently has no political clout speak it leaves much water in your mouth.
Obed Asamoah who wanted to perpetuate his role as chairman of the NDC but failed to get the nod squarely blamed ex-President Rawlings for losing his grip on that leadership position, and bolted the NDC with some party miscreants like Frances Asiam to form the DFP thinking that his party would catch fire and see the demise of the NDC. But Obed who does not have any political persuasiveness saw his divisive act fall apart as Frances Asiam, the world's most noted political prostitute, realized the mistake she made in following Obed and jumped ship and eventually landed on the NPP's 'Burning Train'.
The jumping of ship by Frances Asiam from the DFP should have been enough signals for Obed to keep quiet and go away since his party is just there in name. Currently all what Obed does is to organize press conferences or grant interviews which does not help his cause. I would have found a better way to put my party on the national stage. He does not even have any regional offices let alone any effective team running the party. He is running the party as a one-man show, which is the same accusation he leveled against the NDC back then.
With something like this, it is laughable for Obed to say that he does not regret leaving the NDC. To the best of my knowledge the NDC does not regret seeing Obed who turned into a divisive element in the party go. Nor does the NDC feel any pains that Obed supported the defeated NPP presidential candidate Nana Akufo-Addo. His support of Akufo-Addo did not help him nor did it cause President Mills to lose the 2008 elections. What is more laughable is that after Obed Asamoah has formed the DFP he kept lambasting the NDC everyday even though the NDC was back then in opposition. Obed Asamoah never informed the Ghanaian electorate what his party would do different if voted into power. He only spent the two years leading to the 2008 elections just castigating the NDC. As a result, Obed Asamoah should know that as far as politics in Ghana is concerned he is a non factor. The NDC is better off without people like Obed Asamoah therefore; he should not feel like anybody in the NDC misses him. At best the NDC heaved a big sign of relief when he went away.
Obed Asamoah was also reported to have stated that he saw Akufo-Addo as a better candidate, which was why he threw his support behind him. Well, if Obed Asamoah cares to know, Ghanaians saw something different. They saw something that he Obed missed. In fact Ghanaians saw Professor Mills as a far better and qualified candidate than Akufo-Addo that is why Professor Mills is President of Ghana today. I can see Obed Asamoah licking his wounds and cursing his stars for leaving the NDC. I bet he regrets leaving the NDC and seeing the party in power today. I would have felt the same way too.
With the DFP in tatters Obed Asamoah currently has nothing to do than to continue lambasting the NDC. His pal Frances Asiam is also doing the same thing from another front by jumping on the NDC at the least opportunity. I don't blame Frances for missing the NDC boat because had she stayed with the party she would have gotten something better to do other than jumping from one radio station to another to engage in shouting competitions lately.
It was better Obed Asamoah stated in that interview that he does not intend to rejoin the NDC because there would have been no place for him. Forming a national party is not an easy task as Obed soon found out. You do not only need the money but have to be politically savvy to sell your party to gain national attention. I still do not see that from Obed Asamoah who most of the time sits in Accra lambasts the NDC thinking that people outside the capital city would get the message.
Now that the pieces are settling in Obed Asamoah should leave the NDC alone and try to re-launch his party or fold up. Members of the NDC do not miss Obed Asamoah nor do they care about what he does with his life. If Obed does not know, the NPP folks do not take him serious even though he continues to play in their gallery by speaking for them. In case Obed Asamoah has forgotten was it not this same NPP that he has turned out to be their staunchest backer that accused him of stealing millions of the old Ghana cedis and hiding it under his bed when he was the NDC chair? Obed Asamoah should move on with his life and leave the NDC alone. So long Obed.