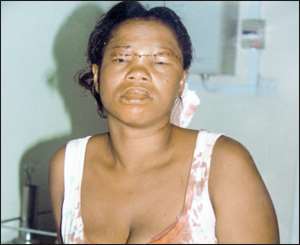 Sara Mensah, victim of the attack A CASE of 32-year-old trader resident at Kwabrafoso by two young women on suspicion of having an affair with their 'sugar daddy' has been brought before a Circuit Court in Obuasi.
The accused persons, Matilda Yaa Kpegilee and Ajara Rahman, on Tuesday, allegedly descended on the complainant, Sara Mensah with a razor blade and slit open every available part of her body, including her face and arms.
This was after she was pushed down from behind by one of the accused persons while she was returning to home after buying some ice.
They have pleaded not guilty to two counts of conspiracy to commit crime and causing unlawful harm, contrary to sections 23(1) and 69 respectively of Act 29/60 of the Criminal Code.
The court, presided over by Gilbert Ayisi Addo, remanded them into prison custody to reappear on March 26 for the trial to continue.
Police prosecutor, Chief Inspector Mohammed Y. Agumah, told the court that the complainant and the first accused person, Yaa Kpegilee, who claims to be a student, lived in the same neighbourhood at an Obuasi suburb of Kwabrafoso.
According to him, the relationship between Kpegilee and the complainant's sister, one Babara Gyasi, turned sour after the first accused person suspected the latter of having an affair with Buaenyah Mensah her 'sugar daddy'.
On reaching a spot close to the first accused person's house, the complainant, who was apparently being monitored by the duo, was severely attacked by them, prosecution narrated further.
Chief Inspector Agumah said in the process, the second accused pushed the complainant down from behind and her sister-in-law, who was armed with razor blade, began to slash their victim mercilessly all over her body.
The complainant then bled profusely till she was rescued after which she lodged a complaint to the police.  
After the necessary investigations, the accused persons were arrested and charged and subsequently arraigned before the court, prosecution concluded.
The victim is meanwhile appealing to philanthropists and benevolent organizations to come to her aid in order for her to foot her medical expenses now that the case is still on-going and she has ran out of cash.
From Ernest Kofi Adu, Obuasi