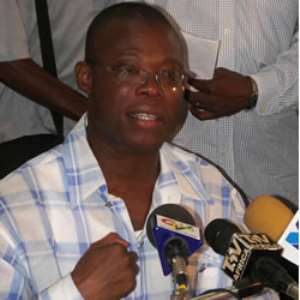 PP PRESENTS VIDEO EVIDENCE ON FIIFI KWETEY
…His Auntie tells it all from Aneho in Togo....
The minority New Patriotic Party (NPP) group in Parliament is to tender fresh evidence on the disputed nationality of nominee deputy minister of Finance, Mr. Fiifi Kwetey.
Last week, the group hinted that it has got in it possession, fresh evidence that suggests that the nominee is indeed a Togolese national and therefore cannot hold public office in the Republic of Ghana.
Today has however uncovered from an in-depth investigations that the Minority evidence is contained in a video documentary that covers the ancestral home of the nominee, his family members and a disclosure by a family member that suggests that Fiifi Kwetey, is a Togolese national.
The video tape, this paper has it on authority, was recorded at Vogan in the Aneho district of Ghana's western neighbouring country. It is accompanied by a narration by Fiifi Kwetey's paternal auntie-Madam Akyedzivi Kweitey. The coverage establishes that the nominee's surname is spelt and pronounced, –K-w-e-i-t-e-y and not Kwetey as he currently holds.
The narrator also gives the name of the nominee's biological father as Mr. Sousa Kweitey, a Togolese national, who according to Madam Akyedzivi, together with Fiifi and other members of his family relocated to Ghana at the height of Eyadema's dictatorship.
The video footage also contains a picture of the nominee, his paternal uncle and Madam Akyedzivi which according to Fiifi's Auntie, was taken at their home at Vogan in Lome, during one of Fiifi's visit to Togo.
She disclosed and showed on the footage the primary school that Fiifi attended during his youthful days at the tiny Vogan village and how Fiifi's alma mater still holds him in high esteem due to the brilliance he showed during his days at the school.
Some school and class mates who Today spoke to, corroborated Fiifi's brilliance during their primary school days at Vogan and indeed exhibited same at the Bishop Herman Secondary School at Kpando, when the nominee and some of his family members re-located at the Ghana-Togo border towns of Denu/Aflao in the Volta Region.
Madam Akyedzivi would however not talk much about Fiifi's maternal family except to say that as a young boy, Fiifi went through some harrowing experiences from some members of his maternal family.
She also talks about the circumstances that forced Fiifi and some members of the Kweitey family to seek permanent refuge in Ghana. Although the information divulged by Madam Akyedzivi on the subject was scanty, this paper discovered that the Kweitey family relocated to Ghana because they were declared wanted by then Togolese dictator General Gnassingbe Eyadema.
Back home in Ghana, our underground hounds have discovered from close associates that Fiifi's hatred for General Eyadema has it source from the bitter experience that his family went through during the reign of Gen. Eyadema.
It will be recalled that Fiifi was one of the NDC functionaries who led the harsh chorus against former President Kufuor, when he made his first official visit as President of Ghana to Republic of Togo to confer with then Togolese strongman, Gen Gnassingbe Eyadema.
A source at the minority however hinted Today that Fiifi did not answer the issue about his true nationality when the issue came up during the vetting "and that explains why we went to the extra mile to establish that Fiifi Kwetey is not a Ghanaian and therefore cannot hold any ministerial position in Ghana", adding that "that was why we went to Togo to establish the fact that Fiifi is not a Ghanaian".
The source again disclosed that the President's nominee did not carry himself well at the vetting and therefore will not endorse his appointment as deputy minister of Finance.
"We have a responsibility of ensuring that competent people are appointed for various ministerial positions and therefore finds Fiifi's disposition at the vetting, as someone, incapable of handling any key portfolio in the country", the source noted.
A key member of the minority, Atta Akyea has lead the campaign against the appointment of Fiifi Kwetey because in his estimation, the President's nominee showed crass arrogance and lied to the Appointment Committee and therefore cannot hold himself as a minister of State.