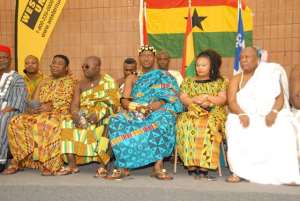 Ghana-Canada House, Montreal organized a special evening of activities in Montreal to mark the 52nd Independence Day anniversary celebrations of Ghana.
The special evening event was attended by Representatives of the Ghana High Commission, Ottawa, led by Mrs. Lillian Osei-Hwere, Representative of the Mayor of Montreal, Madam Mary Deros who is also a Member of Montreal Executive Committee Responsible for Social, Community Development and Family, delegation of Chiefs and people of Ghana led by Asantehene of Montreal, Community Christian and Moslem leaders, Leaders of several African Communities and a cross-section of Ghanaians resident in Canada.
In his welcome address, the President of Ghana-Canada House Mr. Yabuku Amadu emphasized the importance of Ghana-Canada House and called on every Ghanaian in the community to use this Independence Day celebrations as a rallying point to work together as one family. He said problems facing our community here in Canada are huge and it is only with a united front we can overcome these challenges. He thanked the Youth Wing of Ghana-Canada House for their recent innovations including Ghana-Canada House website (www.ghanacanadahouse.com) which was launched by Mr. Emmanuel Boateng as part of the Independence Day celebrations. He called on the Ghanaian community in Montreal to visit this website to exchange ideas on the way forward for the Ghanaian community and to seek information on community events.
A brief History of Ghana followed by a short documentary of Dr Nkrumah entitled "The Rise of Nationalism" was presented by Dr. Quao to educate the community on Ghana's Independence struggle. Dr. Quao said on Independence Day was March 6 1957; Ghana attained self governance and became free from colonial domination. He called on Ghanaians resident in Canada especially the youth to cherish this day as an important day in Africa's struggle against colonial rule.
In her keynote address Mrs Lillian Osei-Hwere Head of Economic & Political Affairs of Ghana High Commission, Ottawa on behalf of the President of the Republic of Ghana, His Excellency Prof John Evans Atta Mills, the Government and people of Ghana, extended a very warm 52nd National Day celebration to the Ghanaian community in Canada. She said the theme chosen for this year's Independence Day celebration "OUR DEVELOPMENT NEEDS, OUR SHARED RESPONSIBILITY" was very appropriate and we as Ghanaians should be proud of ourselves for our giant steps to consolidate democracy in Africa. She said the investment climate in Ghana is ripe and called on Canada and all other friends of Ghana to partner Ghana in her sustainable developmental efforts.
Toasting to Ghana-Canada Relations, Madam Mary Deros said Ghanaians are blessed with sense of initiative. She said contributions of Ghanaians in Canada to the community in the area of health, manufacturing industry, real estate, education; business among others has helped in the social and cultural development of Canada as a whole. She was full of praise and appreciation for Ghanaian community and her leaders.
Nana Kwateng Amaning, read a fraternal message on behalf of the Member of Parliament for Papineau, Quebec, Mr. Justin Trudeau to congratulate the government and people of Ghana on the occasion of her 52nd Independence Day anniversary.
Activities of the evening include Adowa dance, cultural dance by Ewe Association, and Fante Association, What Do You Know quiz on the history of Ghana, Fashion Show In style and a raffle draw. Mr. Jacob Marmon, owner of Ghana Airtime donated a laptop computer as first price for the raffle draw. The second price of an LCD monitor was donated by Mama Africa Beauty Products while a third price of a printer was donated by Mr. Gerald Arhin. The Fashion Show was organized by the Youth Wing was Ghana-House was fully sponsored by Mama Africa Beauty Products Store in Montreal. Ticket number 616038 was drawn as the winner of the laptop. The holder of this ticket MUST contact Ghana-Canada House within 90 days starting from the date of the event to redeem the laptop.
Mr. Gerald Arhin Public Relations Officer of Ghana-Canada House on behalf of the association thanked people who have in diverse ways supported the Ghana-Canada House in her efforts at bringing the Ghanaian community together. He gave special thanks to Mr. Jacob, Yakubu, Dr. and Dr. (Mrs) Laryea, Mr. Joe Kissi, Mr. Daniel Obiri, Mr. John Kiipo, Mr Gabriel Agokou, Mrs Esi Agbokou, Nana Kwateng Amaning: Nana Atta Ware, Sapomaa, Maame Nyarko, Mr. Kingsley, Mr. Gabriel Dalous, Mr. Emmanuel Boateng, Mr. Akwesi Safo, Mrs Lucy Amadu, Mr. Charles Nkansah, Dr. Beatrice Ofosua and Mr. Gerald Arhin for their effort in putting the event together.
Dr. Beatrice Ofosua and Ms. Ama Acheampong were the MCs for the occasion.
Please visit http://afriquecanada.tv/evenements.php to watch the recorded event.
Source: Charles N. Nkansah