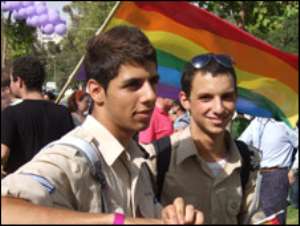 A father and daughter from a US church which preaches hatred of homosexuals have been banned from entering the UK.
Fred Phelps and his daughter Shirley Phelps-Roper from the Westboro Baptist Church (WBC) had urged protests against a play being put on in Hampshire.
Queen Mary's College in Basingstoke is staging The Laramie Project, a play about a man killed for being gay.
Mrs Phelps-Roper told BBC News Online the decision would "bring great wrath upon your heads".
She warned other members of the church, who are not as well known to the authorities, will be trying to get into the UK to protest.
"There are members of WBC that are not named Phelps," she added.
"So they [the authorities] might have their work cut out for them.
"Unless they intend to begin checking the bare backsides of every person coming into that country to find that tattoo that says 'Property of WBC' - they will have no way of identifying who is from WBC."
She called the British government "filthy" for thinking they have the power "to keep the word of God from coming into her borders".
The UK Border Agency said it opposed "extremism in all its forms".
A spokesman added: "Both these individuals have engaged in unacceptable behaviour by inciting hatred against a number of communities.
"We will continue to stop those who want to spread extremism, hatred and violent messages in our communities from coming to our country.
"The exclusions policy is targeted at all those who seek to stir up tension and provoke others to violence regardless of their origins and beliefs."
'Amazed and disturbed'
The Westboro church's website advertised the picket which was set to take place on Friday, proclaiming: "In merry old England they plan to further enrage the living God by putting on the farce known commonly as The Laramie Project.
"We will picket them, and see if they actually believe those lies they tell about how tolerant and accepting Brits are."
Hampshire Police said they were aware of the planned protest and officers were monitoring the situation.
Stephen Sheedy, principal at Queen Mary's College, said: "I have been amazed and disturbed by what has happened this week.
"[The church's views] are such a gross abuse of Christianity and a gross misreading.
"The show is being put on by a production company, not by our students, but we support it fully and hope it goes ahead without any problems."
He does not expect any picket by the Westboro church but thought the coverage could actually spark a counter protest against them.
Members of the group - based in Topeka, Kansas - have denounced homosexuality for years and have in the past targeted the funerals of Aids victims.
In 2007, the church was told to pay $10.9m (£5.2m) after its members cheered a soldier's death as "punishment" for US tolerance of homosexuality.