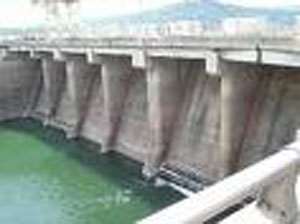 Akosombo Dam The Volta River Authority (VRA) has explained that it is normal for the water level of the Akosombo Dam to drop during the first half of the year.
It has been projected that the water level of the dam would drop by 9.40 feet in July this year but the VRA has declared that there is no cause for alarm as the reservoir level by then would still be far above the minimum operating level.
Earlier this year, the Director of the hydro generation department at Akosombo, Kwabena Amoako disclosed the prediction and however assured Ghanaians that should the unfortunate situation happen, his outfit would put in place measures to ensure continual power supply in 2009.
The VRA has stated that it is not abnormal for the water level of the Akosombo Dam to drop and stressed that at maximum operating level the water in the dam should be 278.00 feet whilst the minimum operating level is 240.00 feet.
A special correspondence addressed to DAILY GUIDE in response to a story published in the Friday January 23, 2009 edition of the paper under the headline, "Akosombo Dam Water Level to Drop" said every year the dam's water level falls steadily until after July when the major rainfall season starts in the North and then reaches its peak in September. "It is usual for the water to drop from January to July before the major rainfall season in the north sets in," it said.
The statement signed by Kofi Asante Okai, Director, Corporate Services and copied to Mr Amoako, Director of Hydro Generation said the situation only gets bad when there is poor or inadequate rainfall in the catchment area of the Black and White Volta.
Such occurrence leads to a reduction in water inflows into the reservoir from August to October as the country experienced in the year 2006 and 2007.
He said the current water level in the Akosombo Dam compared to same time last year, was 262.40 feet, the statement added.
By Emelia Ennin Abbey