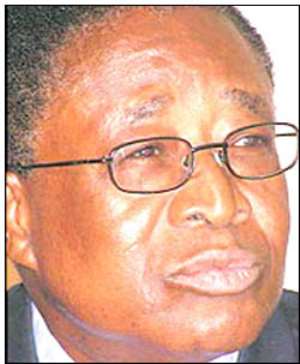 Edward Osei Kwaku THE EFFIDUASI District Magistrate Court has refused to grant bail to Yaw Agyapong who has been hauled to the court for knocking down and instantly killing a six-year-old girl with his car.
Eric Baah Boateng, the Presiding Judge, turned down the accused person's request for bail on Wednesday February 11, 2009 when Agyapong appeared before him.
He insisted that his court (a District Court) has no jurisdiction to grant bail to the accused, who has been charged for killing.
He explained that courts such as the high court and other superior courts have the jurisdiction to grant bail to a person facing trial for killing.
Baah Boateng therefore remanded Agyapong into prison custody again to reappear on February 25, 2009.
Agyapong, it would be recalled, hit and killed Maame Yaa, 6, with an Opel Astra taxicab with registration number GW 7554 Y at Asukokoo near Effiduasi on May 1, 2008.
The accused is the same driver who hit and killed the late Edward Osei Kwaku, former Minister of Education and Sports in the NPP administration with a Benz bus at the Roman Hill area in Kumasi in 2005.
Fron I.F Joe Awuah Jnr, Kumasi