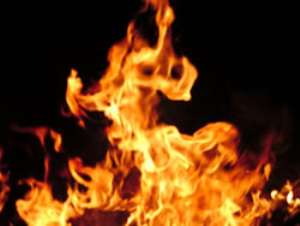 Australian officials have warned that the death toll from wildfires that have already killed 128 people in the state of Victoria is likely to rise further.
Prime Minister Kevin Rudd said the numbers were "numbing" and warned the nation to prepare for more bad news.
Troops and emergency crews are still battling about 25 fires - two of which are threatening urban areas.
Some towns have been almost completely destroyed by the fires, with arson suspected in some cases.
An area of 3,000 sq km (1,200 sq miles) has been affected.
Firefighters say temperatures have dropped and conditions have improved, allowing them to get some of the blazes under control.
But two fires north-east of Melbourne are still described as major concerns.
One is threatening hamlets near to the town of Beechworth, and the other is the Murrindindi Mill fire, which is moving north-eastwards, threatening the township of Taggerty.
'Mass murder'
Mr Rudd announced an immediate aid package of A$10m ($7m) and said damaged areas would take years to rebuild.
"That's why we have deployed the army, that's why we will be deploying every possible resource," he said.
Officials believe some of the fires might have been started deliberately, an accusation Mr Rudd described as "a level of horror that few of us anticipated".
"There are no words to describe it other than mass murder," he said.
Many residents of fire-ravaged towns are now embroiled in a desperate search for friends and relatives missing since the flames tore through the tiny communities.
Reuters reported that shocked residents wandered the streets of the hamlet of Whittlesea - near the devastated town of Kinglake - some crying, searching for missing relatives.
Whittlesea resident Sam Gents told the agency he had not heard from his wife Tina and three young children since the flames swept through Kinglake.
"The last anyone saw of them, the kids were running in the house, they were blocked in the house," he said.
The authorities have sealed off Kinglake as bodies are still being recovered.
"If they let me up the mountain I know where to go [to try and find them]," Mr Gents said.
'Shock and sadness'
As the fires recede, shocking stories are emerging from survivors in the worst-hit areas.
The Melbourne Age newspaper quoted one woman describing the arrival of a badly burnt man and his daughter seeking shelter on a patch of open ground.
"He had skin hanging off him everywhere and his little girl was burnt, but not as badly as her dad," she said.
"He just came down and he said 'Look, I've lost my wife, I've lost my other kid, I just need you to save [my daughter]'."
Tens of thousands of firefighters have been trying to contain blazes in two other states - New South Wales and South Australia - but the fires there were largely contained or burning away from residential areas.
Australia's head of state, Queen Elizabeth II, has spoken of her "shock and sadness" at the number of deaths, and has praised the extraordinary work of the emergency crews at the scene.
The British and New Zealand governments have both offered to help deal with the fires.
The Australian Red Cross, which has about 400 volunteers working in Victoria, has launched an appeal for donations.
Bush fires are common in Australia, but the current blazes have eclipsed the death toll from what had been the previous worst fire in 1983, when 75 people died on a day that became known as Ash Wednesday.