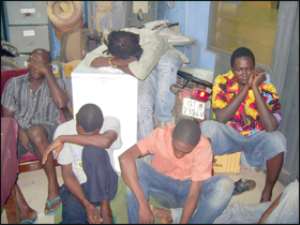 Some of the wee suspects The Nima Divisional Police Commander, ACP Awuni Angwubutoge has waded into the rampant take-over of public places of convenience by partisan elements within his area of jurisdiction.
His intervention was prompted by a letter from one of the groups involved in the action which suggested that the membership had the backing of the Accra Metropolitan Assembly (AMA).
With this letter, the Divisional Commander said, "I wrote to the AMA and the response asked that anybody caught engaged in the lawlessness should be arrested as no such backing had been given them."
He said those involved in the lawlessness should note that a change of government does not suggest the absence of law in the country, adding that anybody caught flouting the law would be arrested and arraigned.
In a related development, a total number of 150 police personnel drawn from the Nima Divisional Command, the Rapid Deployment Force, the Striking Force, the Regional Headquarters alongside the Nima and Maamobi Neighbourhood Watchdog Committees, undertook a massive security operation to arrest suspected criminals.
The routine swoops, according to the Commander, were in line with President John Evans Atta Mills' commitment to reducing criminal activities in the country to the barest minimum within his first 100 days in office.
Some of the suspects were Mohammed Abdulai, 27, Issa Alhassan, 31, Igor Jerald, 24, Moses Nkoom, 34, Ovie Onos, 24, Abass Yahya, 34, Nuhu Suraj, 33, Prince Ndatsi, 31, and Sarata Abdallah, 36.
Others were Yusif Yahya, 22, Sani Ayenbili, 26, Mansuru Abdulai Aziz, 32, Abdallah Mohammed, 27, Zibluga, 35, Kale Jonathan, 18, Kwasi Dogbe, 23, Mohammed Karim, 34, Abubakari Alhassan, 35, Osman Tanko, 26, Labaran Salifu, 24, Fugah Sohedu, 35, a minor and many more.
Briefing DAILY GUIDE on how the operation was carried out, Deputy Superintendent of Police (DSP) Aduhene-Benieh, Nima District Commander noted that it took both the Nima and Maamobi neighbourhood watchdog committees to point out the hideouts of these hoodlums.
According to him, while some were in the process of selling and smoking a substance suspected to be 'wee', others were not.
Those who were caught red-handed with the drugs, he indicated, threw them (wee rolls) away upon sighting the police.
He confirmed that apart from the Indian hemp, no other offensive weapons were found on the suspects.
After a thorough screening exercise, DSP Aduhene-Benieh said those found guilty of the offence would be processed for court today, Monday 2 February 2009.
However, he cautioned the public against undermining the operations of the watchdog committees because they have the backing of the Inspector General of Police (IGP) and would still execute their civic responsibilities to safeguard society.
For him, their roles should be complimented rather than castigated, calling on other communities to as well put up such vigilante groups to help the police reduce crimes in society.
Shortly after the swearing-in of President Mills, some Nima residents began expressing excitement that the development suggested the end of the neighbourhood watchdog committee concept. This is what ACP Angwubutoge objected to, warning, "Anybody who obstructs the work of the community policing concept would be arrested and arraigned. Indeed, those who do this are the criminals in the community who stand to gain when there is lawlessness."
By Nathaniel Y. Yankson